2018 Chinese New Year Holiday Last from 10th~25th Feb
Dear Friends
Happy New Year of 2018. May your new year be filled with all the success and happiness you deserved.
We here warmly remind you that Chinese new year is coming and we will have a vocation from 10th ~ 25th Feb.
If you have anything need to be processed pls inform us early by 30th Jan. If you plan to come pls make it early Jan or March. We hope you have a wonderful start in 2018! Best Wishes & Kindest Regards David
If you plan to come pls make it early Jan or March.
We hope you have a wonderful start in 2018!
Best Wishes & Kindest Regards
– Tanndy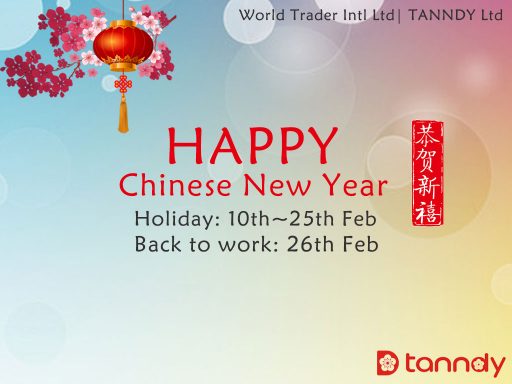 Welcome to contact us
Tips: If you prefer direct call, Message or email then follow:
Lilian: 0086-18620045496 (on WeChat, WhatsApp)
David: 0086-18620044981 (on WeChat, WhatsApp)
Email: tanndy@tanndy.com
We will respond in 30mins during working time.