A visit to the largest furniture materials market in China Foshan Shunde
There is a biggest wholesale market for furniture materials in China. Located in Shunde district in Foshan city. It is the largest market for furniture parts.
It is called Asia Start Furniture Material Trading Center.  Here you can find any materials for making furniture. Like sofa leather, chair legs, glue, hardware, decorate parts etc.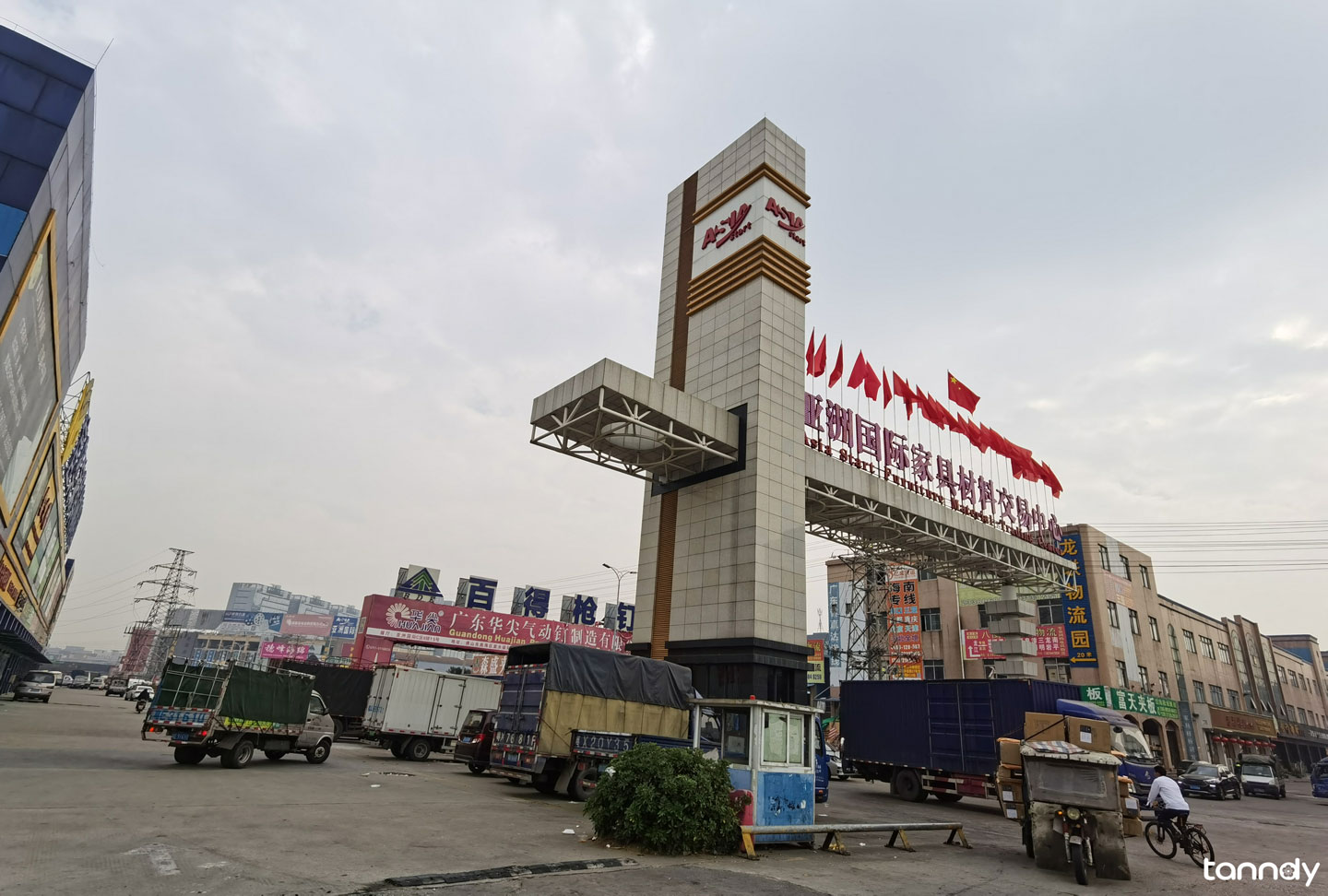 This  is the front gate of the market, we can see the name of the market.
The scale of the market?
The market is quite large, I have been walking for 30mins to check around and still visit 40% area. There are still many streets that not yet checked.
Why it is located here?
The reason is that Shunde district is the manufacturing base for furniture in China and there are numerous manufactures of furniture here. The manufactures here make all kinds of furnitures in China, like sofa, bed, chair, table and cabinet etc. So a large market for furniture parts will be very convenient for them to purchase parts from here.
I can also see that there are some furniture manufacturers located next to the parts market. It will be very easy for them to look for any parts.
As the furniture manufacturers are around and it will be easy to ship the parts to them. It will be time and cost saving.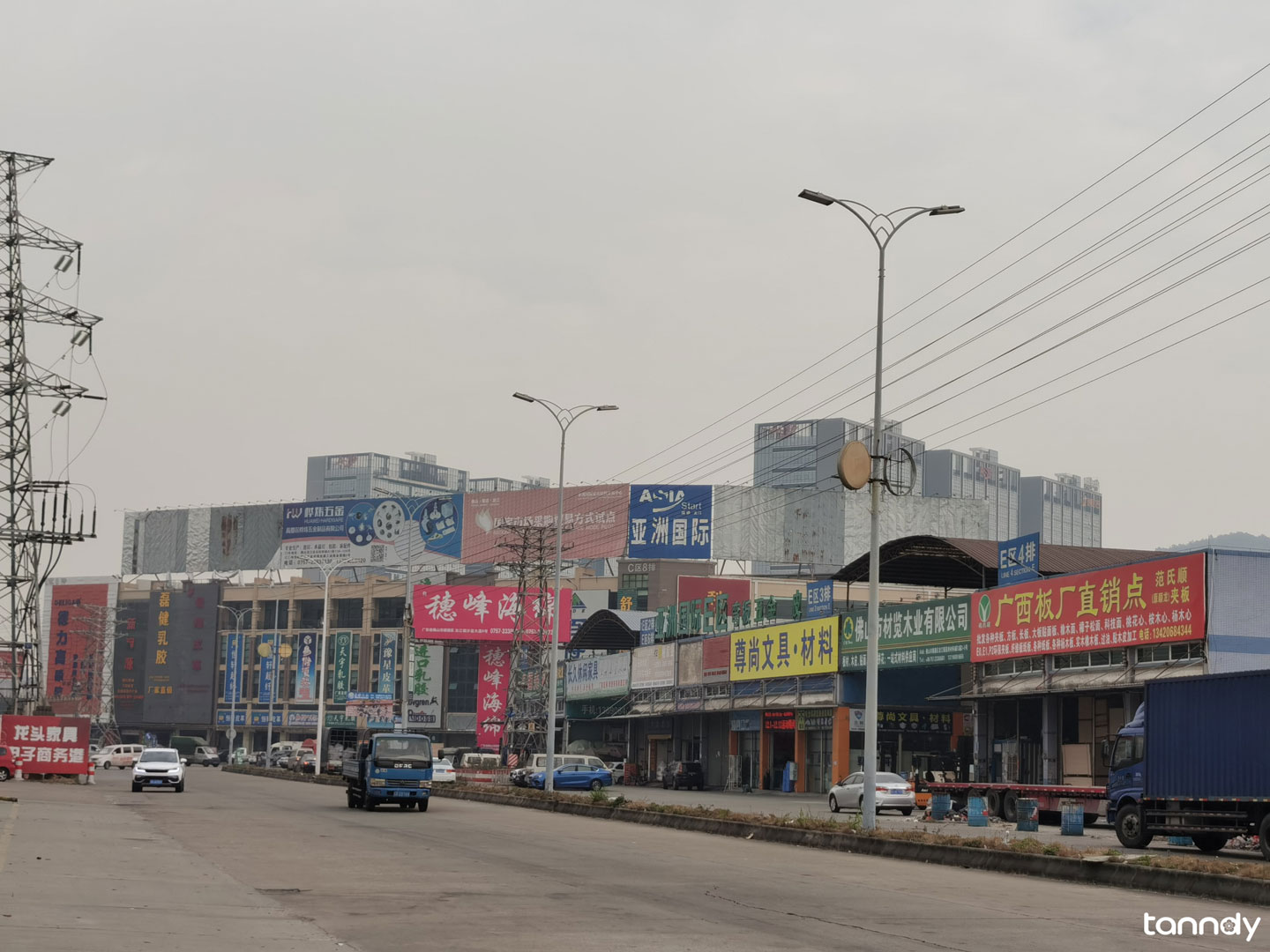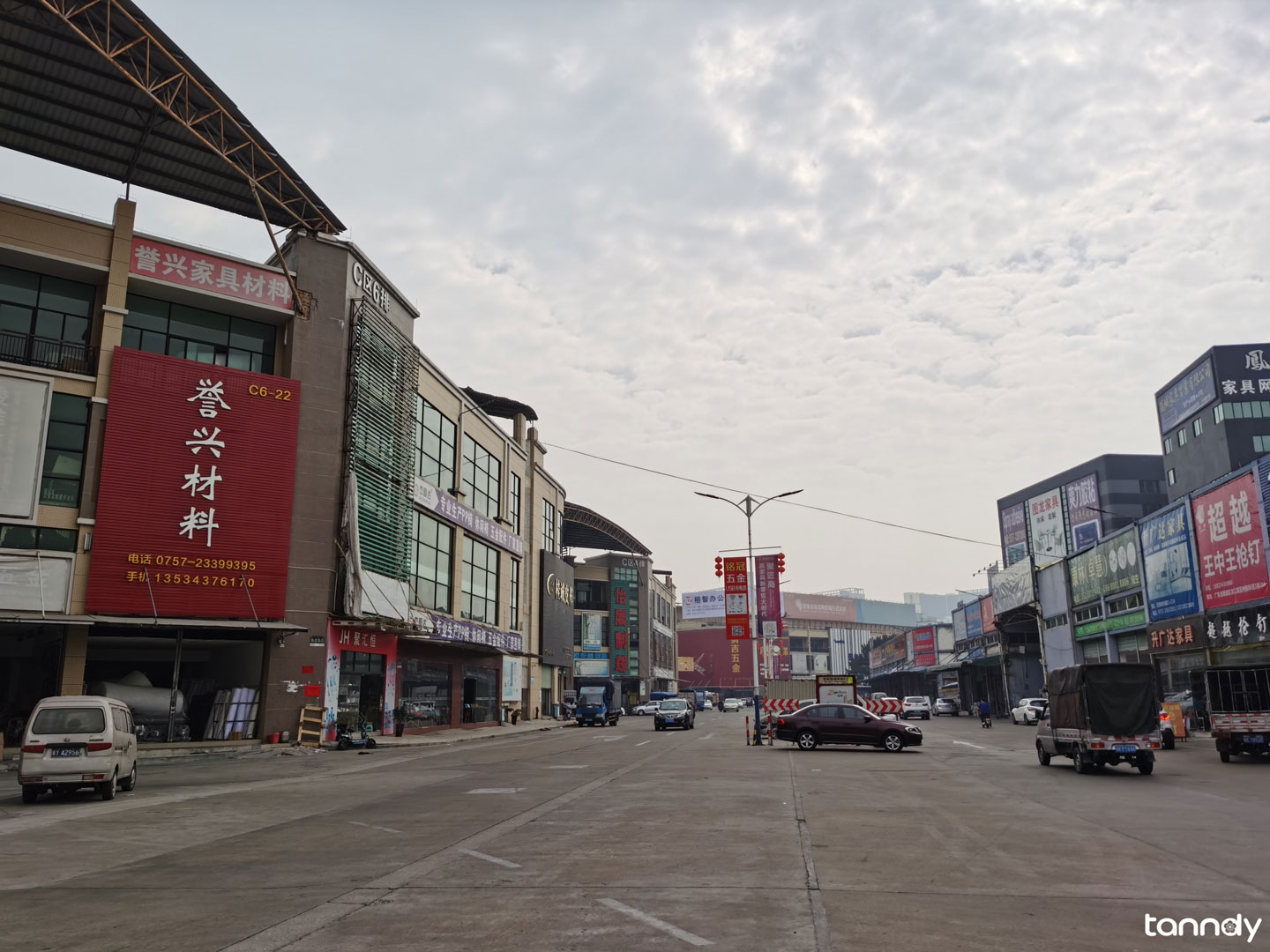 After entering the front gate, this is the main street of the market. We can see some ad board of selling furniture glue, hard and ply wood.
What can be found inside?
By checking around, I found almost all parts here for furniture.
Like different shape of chair leg. Different shape like modern style, classic style and European style. Different materials like iron, copper and wood.
Also many different shape of sofa frame. Its made by multiply wood with ready certain shape. So when the sofa manufactures buy the sofa frame, they just wrap the frame with certain materials like letter, PU or fabric. Which could be easier for making sofa.
I also found many different materials for sofa leather. Some of them are genuine leather but most of them are selling artificial leather. See from their ad we can know that those artificial leather has better function like water proof, anti wrinkles or longer lifetime, but much cheaper cost.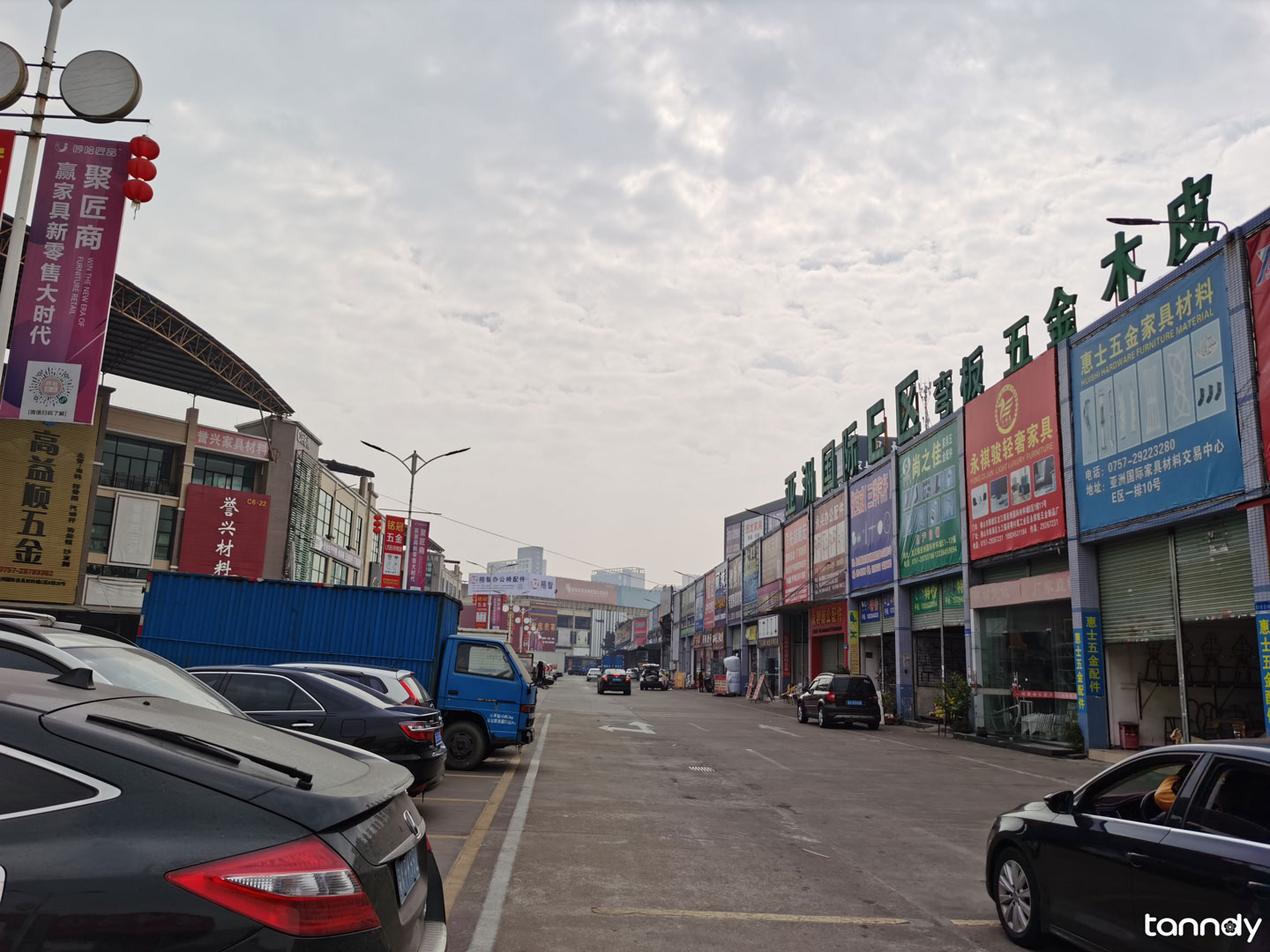 On the right side, it is the section for hardware, wood and veneer. Let us go and see some shops here.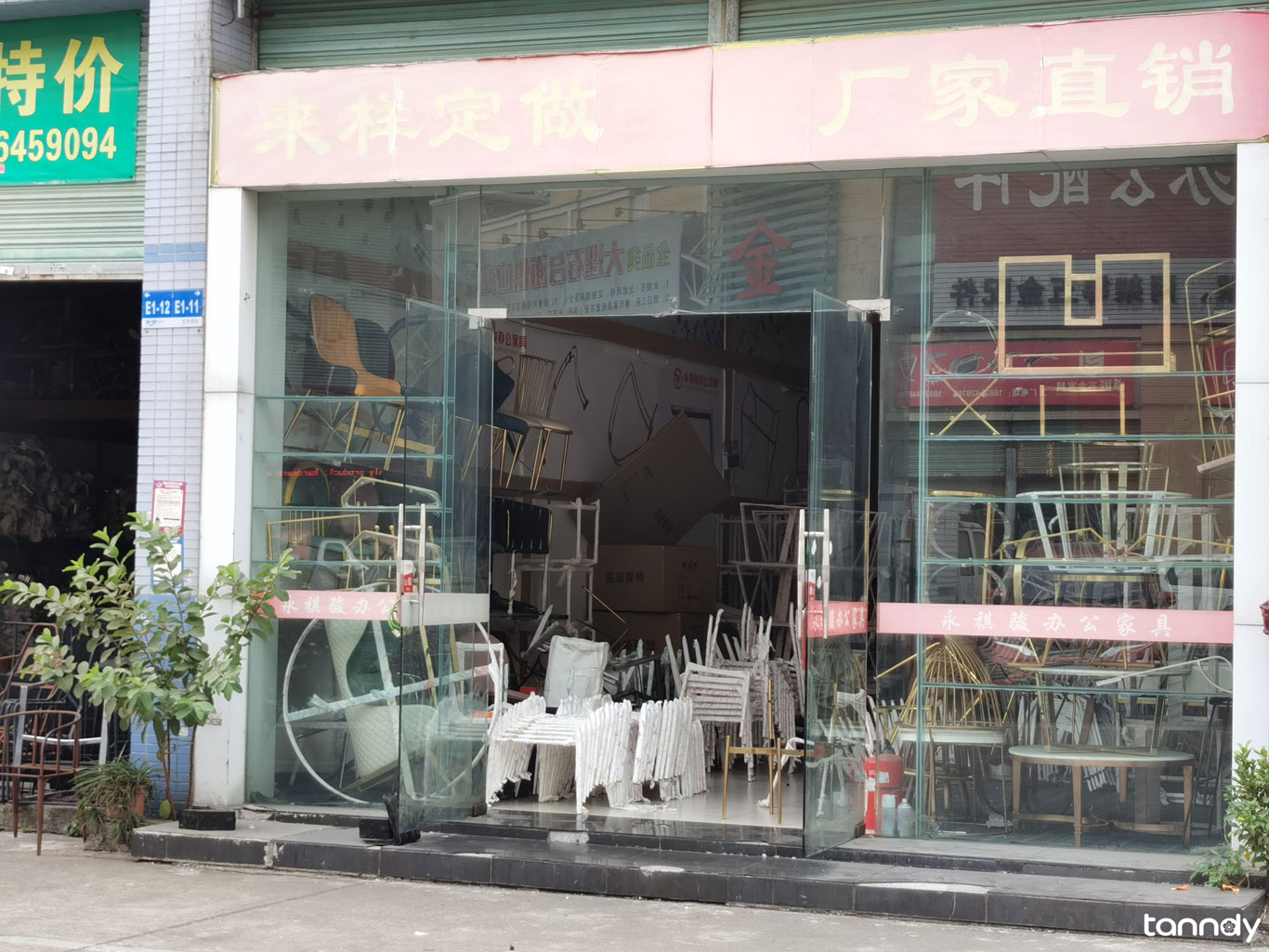 This supplier is selling different kinds of chair & table legs. By seeing from outside, most legs are metal materials.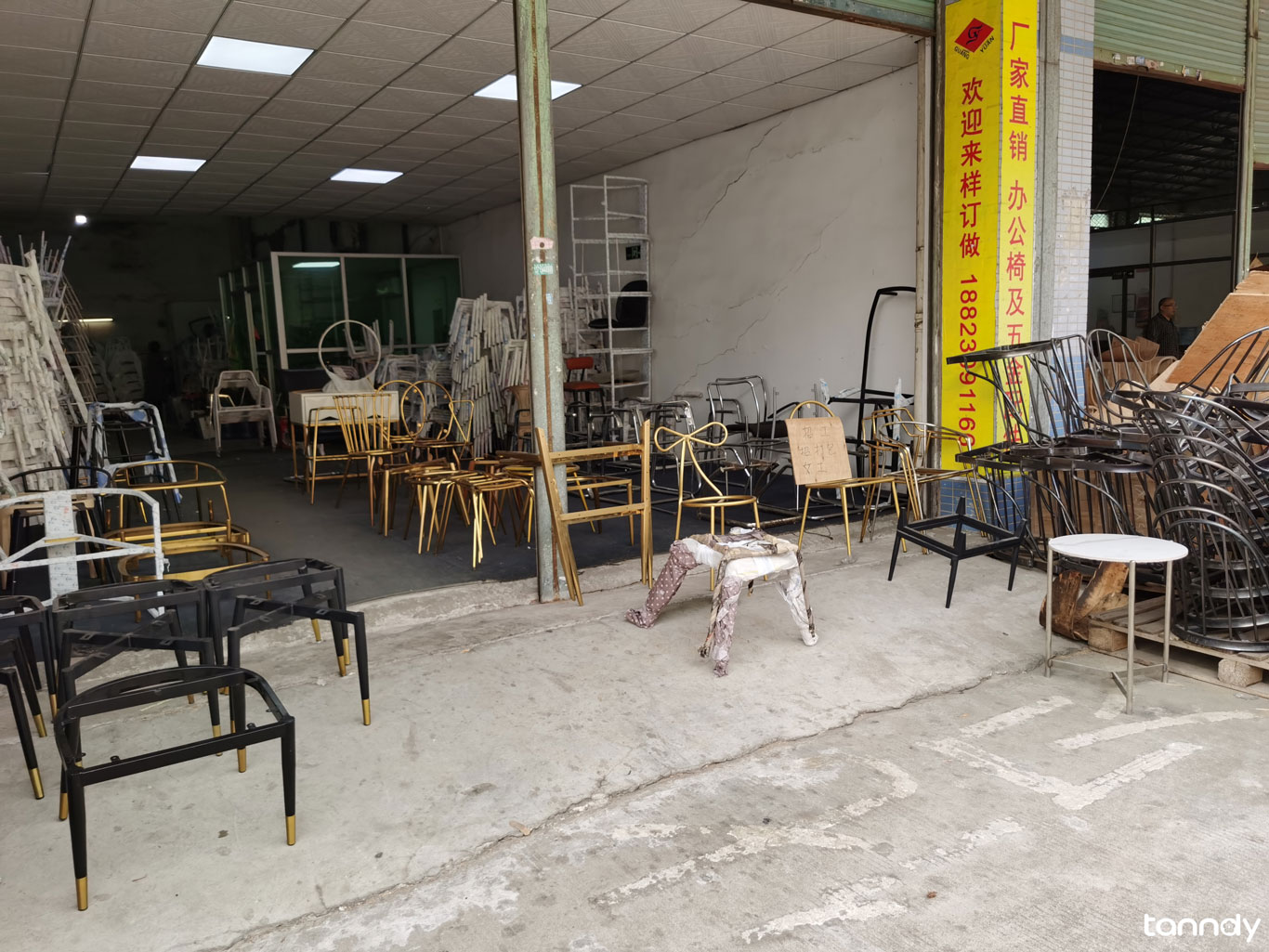 Different kinds of chair legs. Golden color and black color.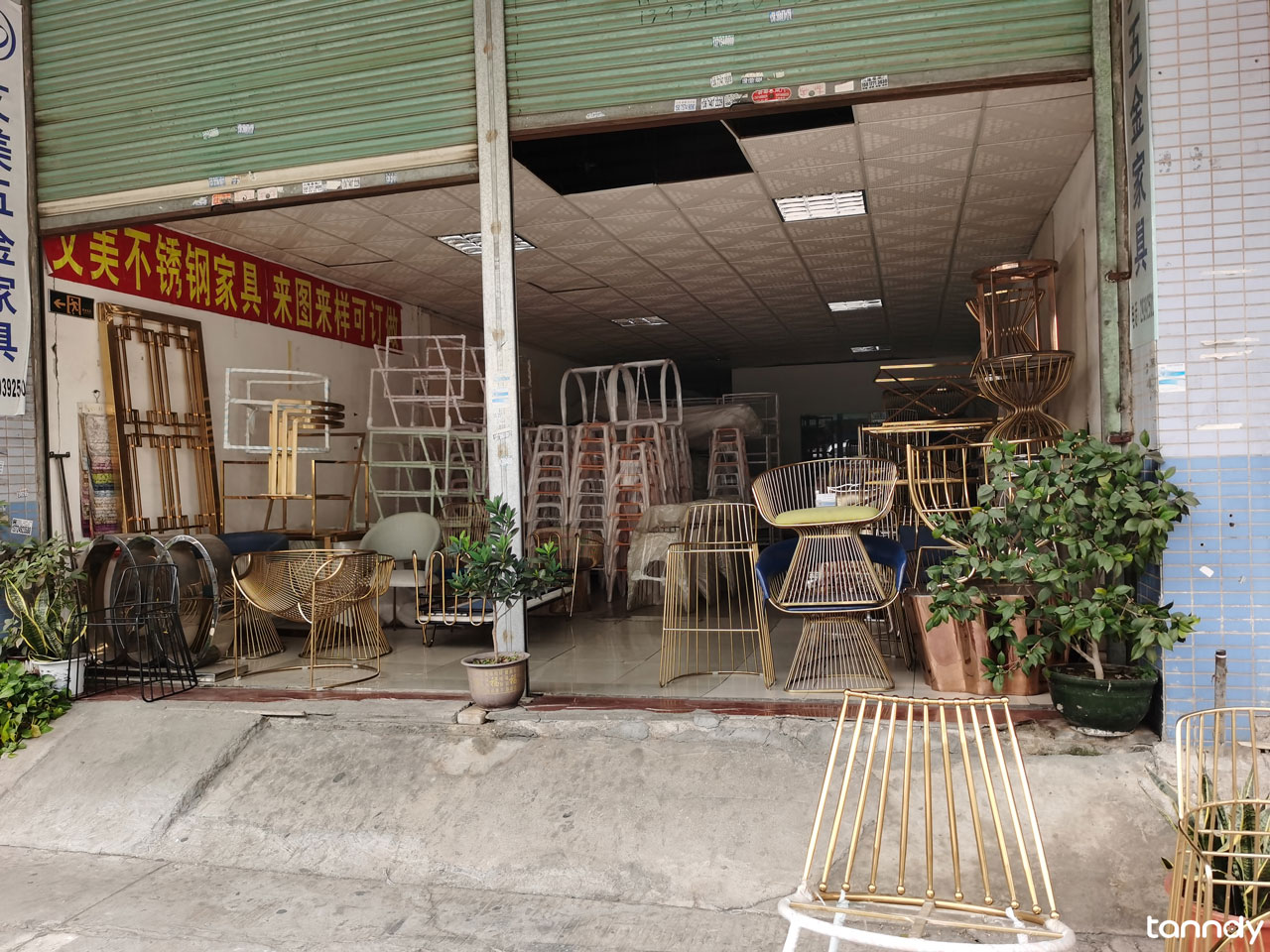 The item from this suppliers looks nicer than other shops. I can imagine how beautiful it will be after making into finished furniture.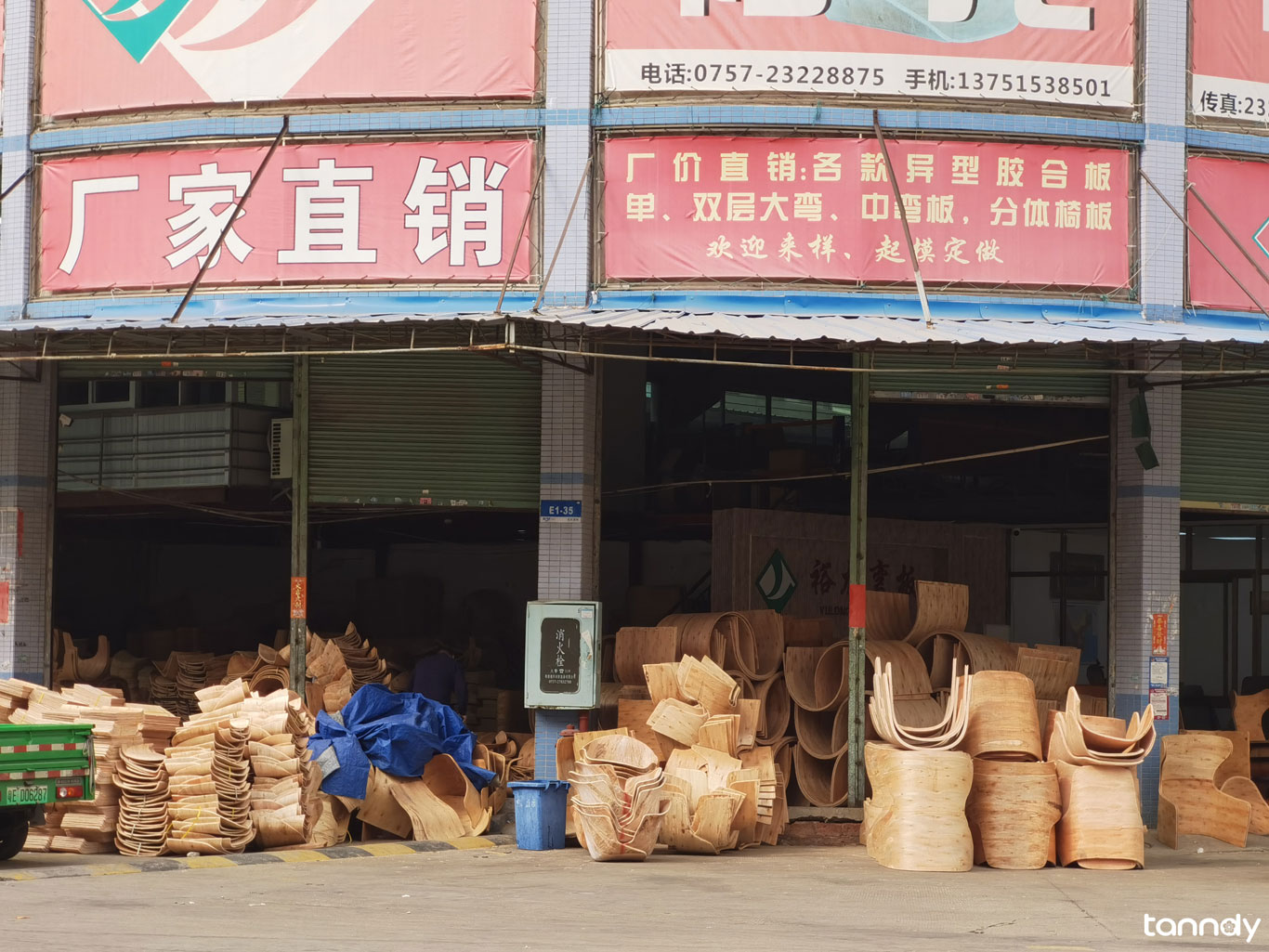 This supplier is selling sofa & chair frame. We can see the shape of the draft sofa. If a sofa maker purchase these frame then they can just wrap the frame with leather or fabric to make it into sofa.
We can see from the pictures that, those frame are made by ply wood.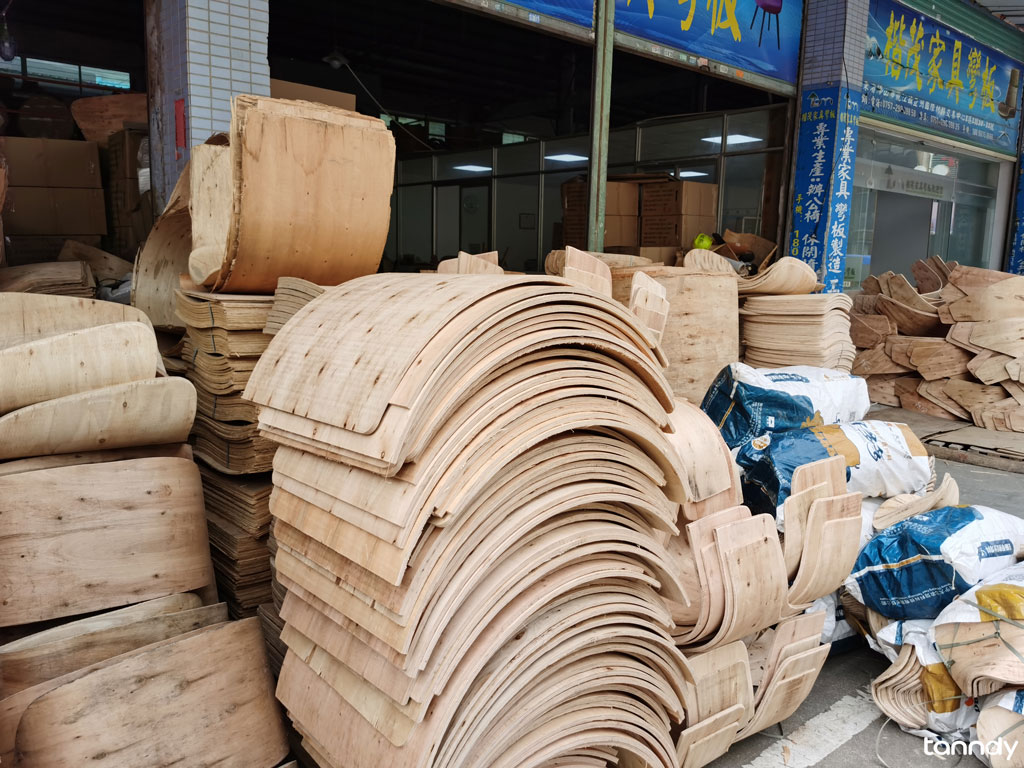 More pictures of the ply wood.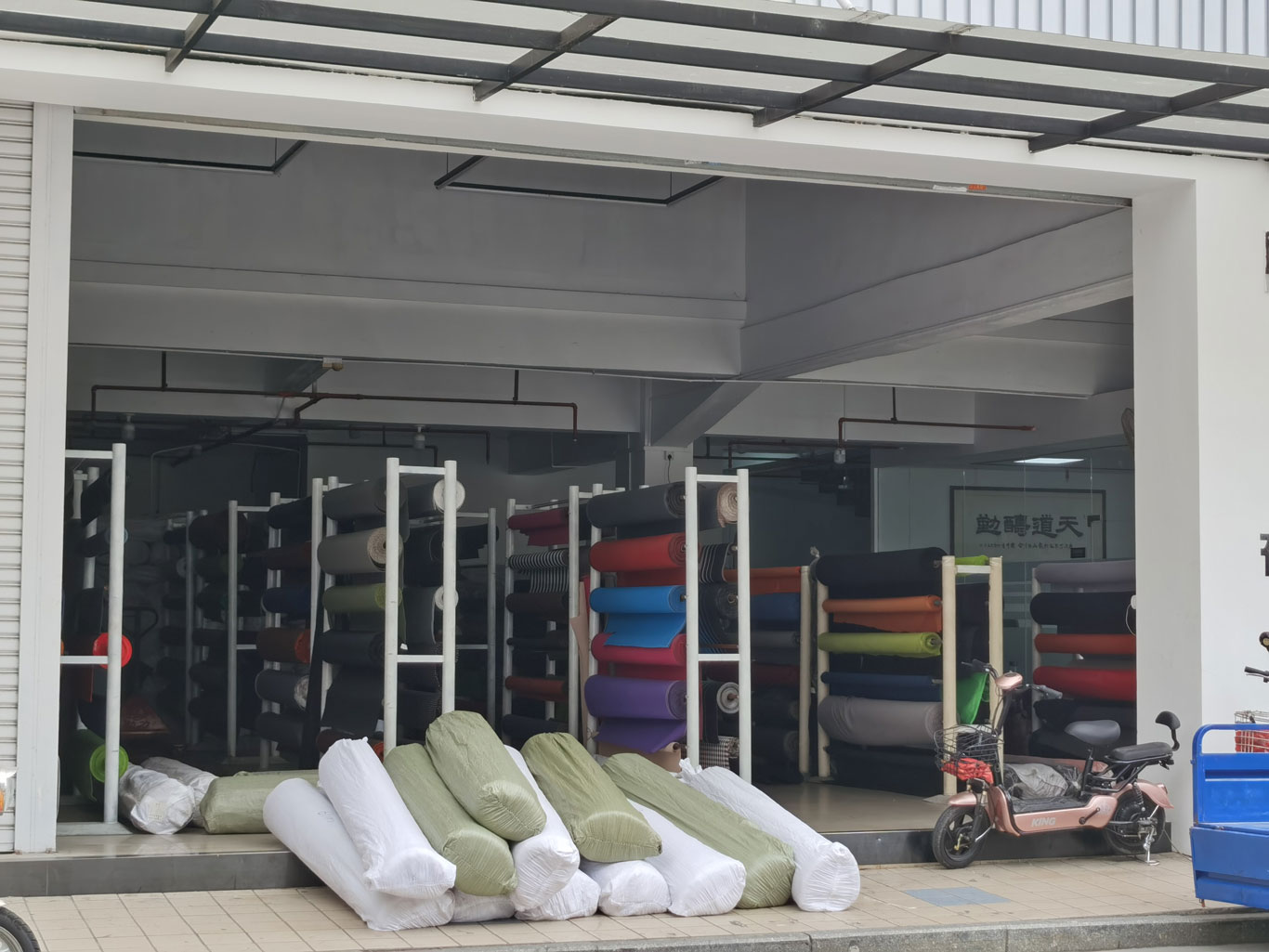 This supplier is selling different kinds of fabric. Those fabric can be used in sofa or chair.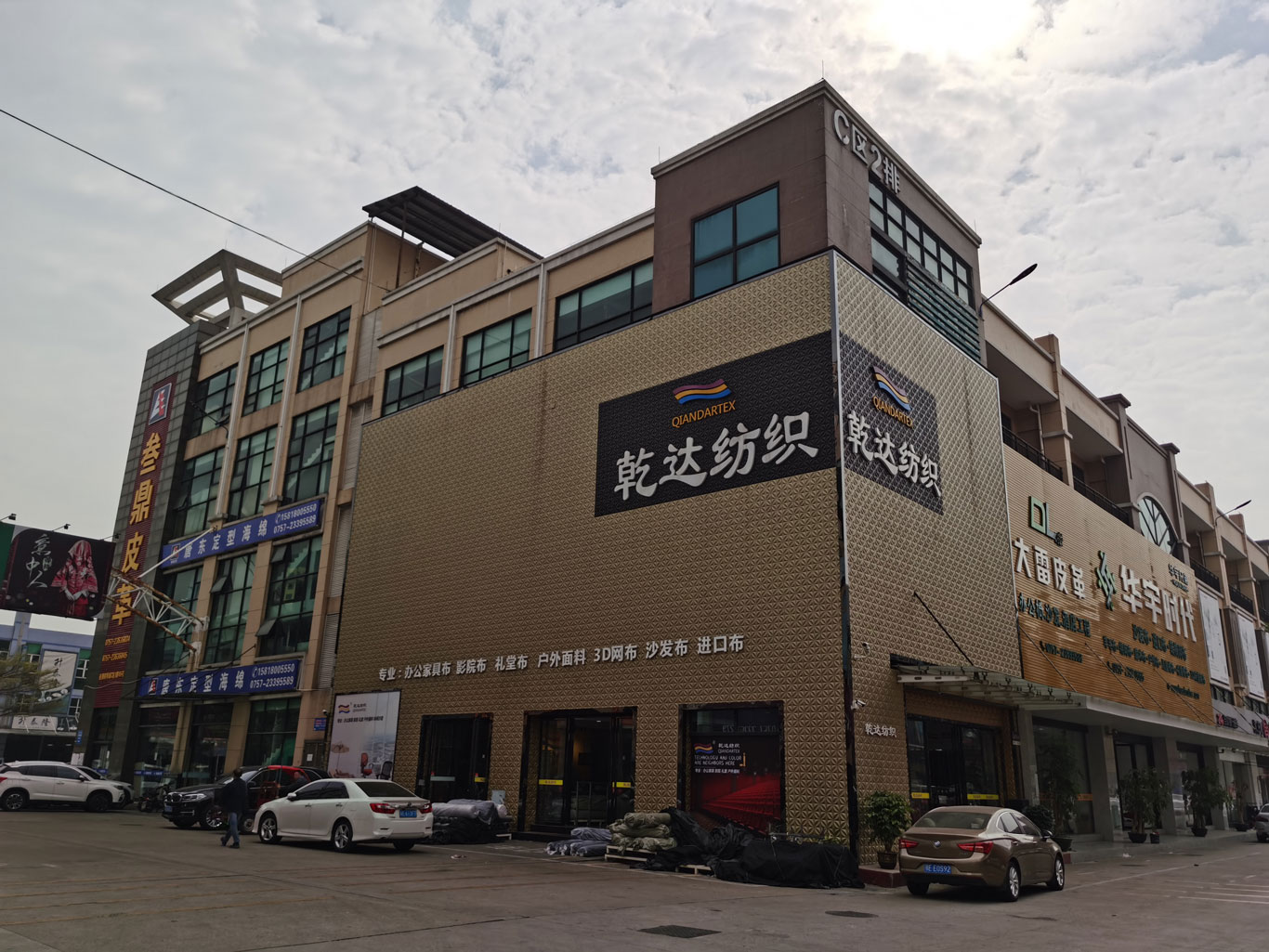 This is a fabric supplier. Their showroom seems very big. They are selling fabric for outdoor furniture, sofa fabric, fabric for office furniture.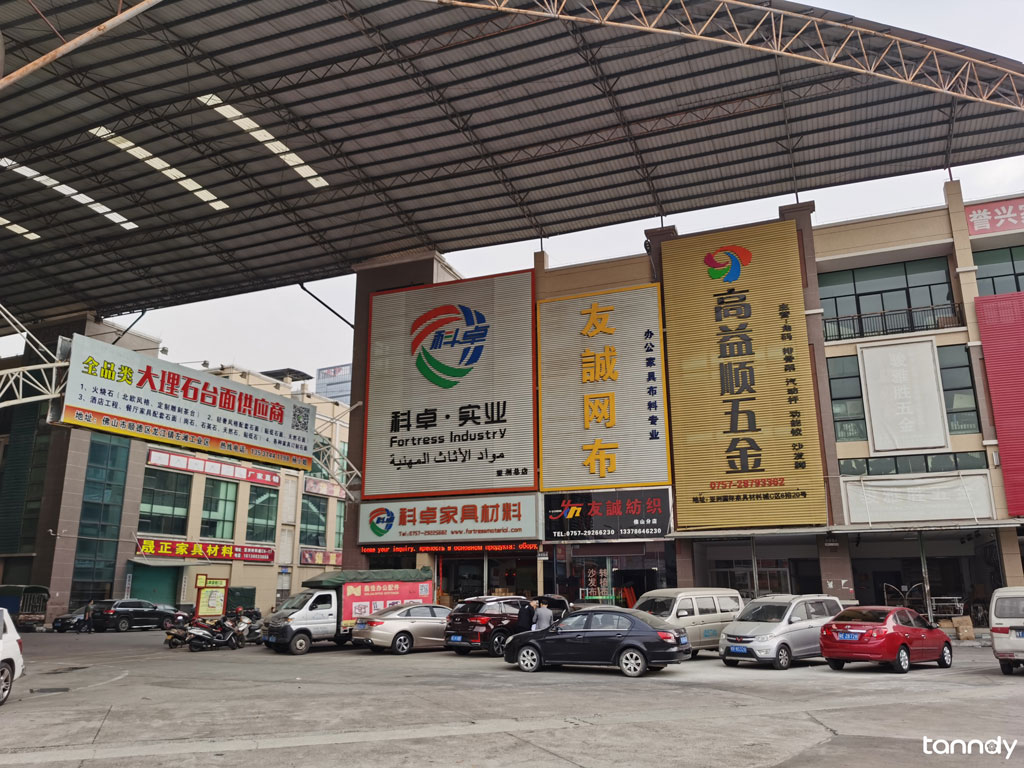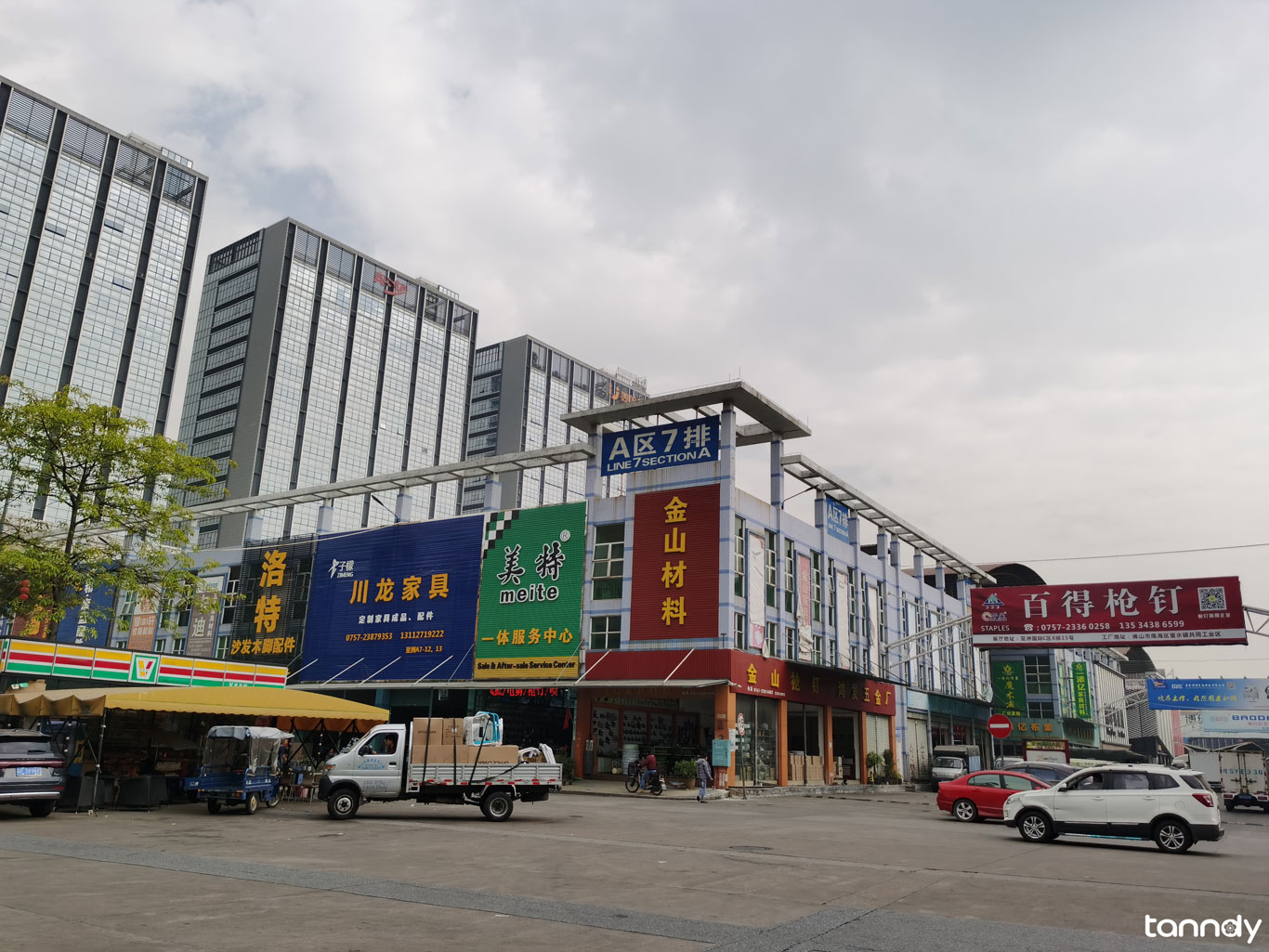 This is section A. Mainly for hardware like nail, hardware parts etc.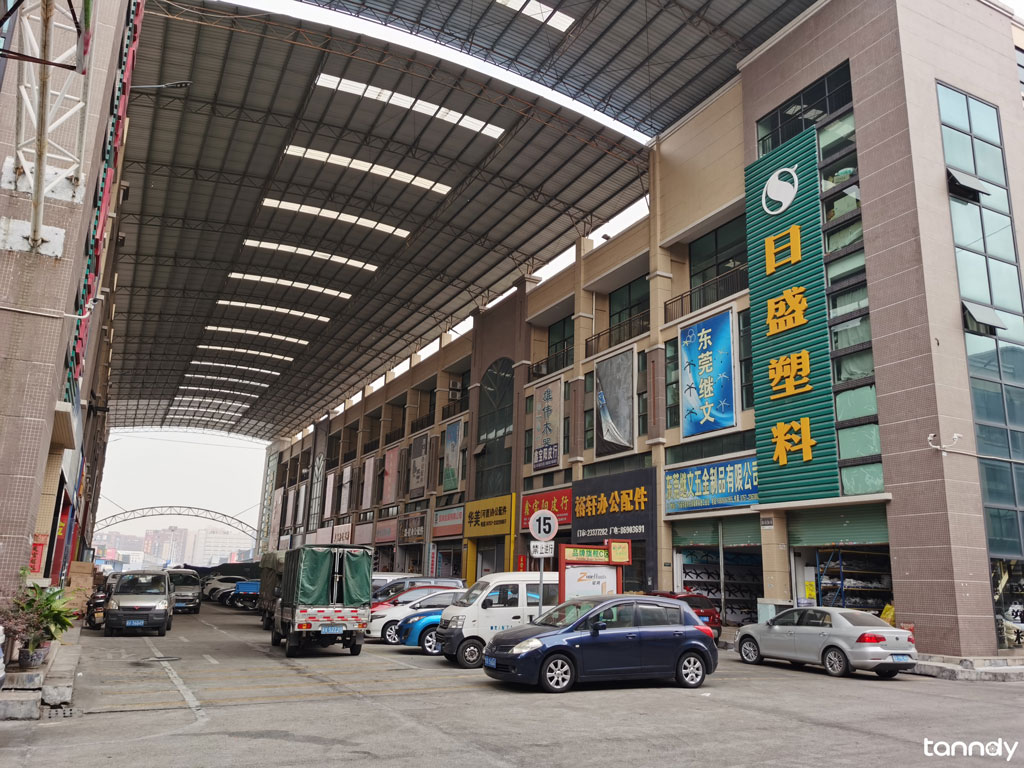 Do they speak English?
As this market is mainly for local suppliers and most of them only speak Chinese. I did not find any English introduction or product details here. So if you are coming to visit here, it will be better for you to hire an interpreter.
If you are making your own furniture and want to purchase parts from here, then here could be a good choice to visit and buy from.
If you are coming to buy the furniture materials, then we are pleased to assist with the
buying and shipping
. You are more than welcome to contact us.
Welcome to contact us
Tips: If you prefer direct call, Message or email then follow:
David: 0086-18620044981 (on WeChat, WhatsApp)
Lilian: 0086-18620045496 (on WeChat, WhatsApp)
Email: tanndy@tanndy.com
We will respond in 30mins during working time.