Current status of Social network in China and what available there
Chinese government have been putting on very strict control on the internet by 'great firewall of China' system for years and lots of foreign websites or Chat software were blocked in China now.
Now most suppliers in China who focus on export business are struggling with most main oversea websites like Google, Facebook, Gmail etc. TANNDY LTD has been doing export agency service since 2006 in China and sometimes we also face challenge in network.
Below may help you if you are trying to communicate with any Chinese Friend/supplier. This article mainly focus on 3 things: SNS website, Chat Software, Email.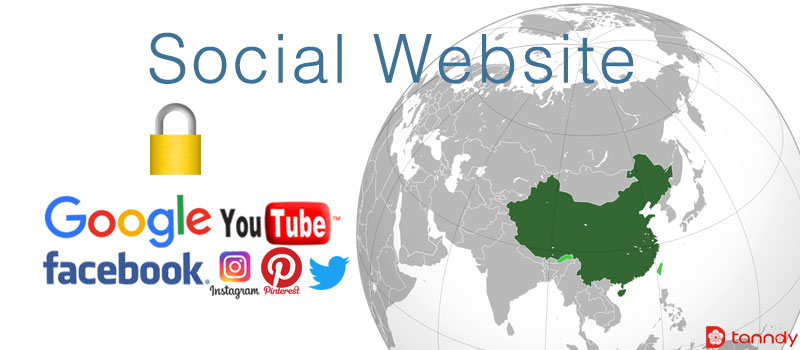 Google / Facebook / Twitter / Instagram / Pinterest / Youtube / Google +
All get blocked here, for both website and app. Can NOT access at all with out a VPN.
Tips: It's accessible in Hongkong.
LinkedIn / Yahoo / AOL still work here.
In China, still lots of people using a 'Chinese Twitter' called 'Weibo, it's from Sina Corp. Some international celebrities like Tim Cook, David Beckham, Bill Gates are also on it. If you want to visit pls go: http://english.sina.com/weibo/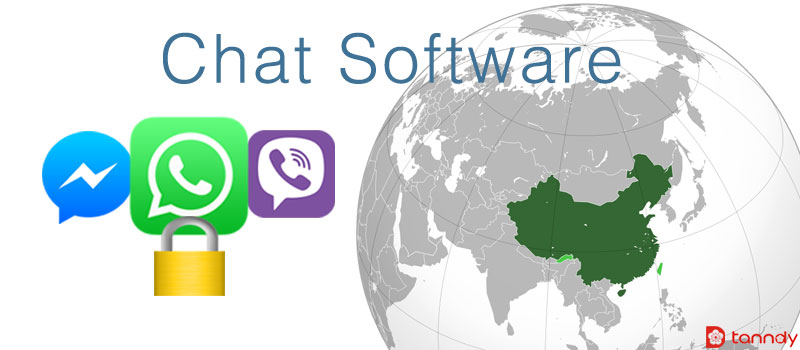 WhatsApp, Messgenger and Viber is not working here
WhatsApp, Messenger, Viber is not working here.
WhatsApp
WhatsApp which is widely used in the world while now it got blocked most of the time in China. Before a lots of Chinese suppliers connect the overseas buyers through it. After Facebook purchased it then it start to have problem. Sometimes message can come in but hard to send out message.
Messenger – As it belongs to Facebook so it is not working here from the beginning. Less Chinese use it.
Viber – Viber has been blocked for 1~2 years and now it is completely not working here.
Tips: Above chat software are accessible in Hongkong.
What chat software is working here?
WeChat, QQ, Skype, iMessage is still working here.
WeChat
The most popular chat software in China. It's owned by a Chinese company called Tencent which has total 5 billion users in China. It has text/voice message and voice/video call. You can add one people by adding his mobile number. As its belong to Chinese company so it won't have any internet problem. Now lots of Chinese suppliers asking their client join WeChat.
If you want a professional sourcing agent from China then you can add Tanndy Ltd as: 0086-18620044981.
QQ
QQ is almost the same as WeChat here, come from the same company and it has better desktop version. Most Chinese use it for work communication.
Skype
As Skype belongs to Microsoft and Microsoft has much better relationship with government here, so it's working here. But 2 weeks ago, it's cracking down and yanked from the main App Store in China. The people who already had it on their computer they can still use it without any problem. It still working here.
iMessage
It is working here. As it belongs to Apple Inc and Apple have very good relationship with government here so it's working very well since the beginning.  However, less Chinese people like it.
TradeManager
It's from Alibaba and normally for international trade communication only. It works here all the time. Lots of Chinese suppliers who supply on Alibaba.com are on TradeManager.
Tanndy Ltd is also an Alibaba member. You can find our Alibaba site: https://tangda.en.alibaba.com
Which email is not working here?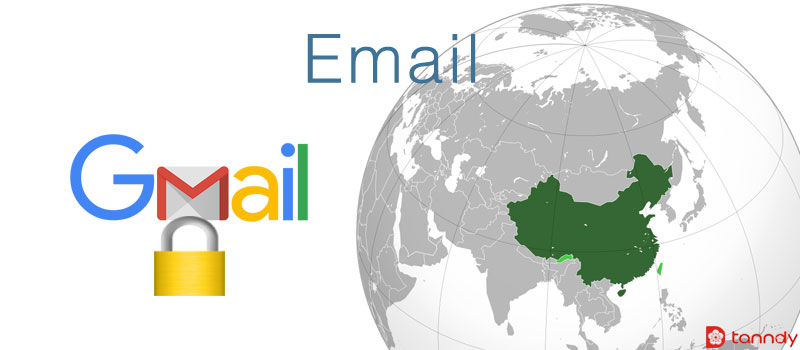 Gmail
One thing is that as Gmail belongs to Google, so it's also blocked here. If you have your working mail with Gmail and if you are traveling to China then better to apply a alternative mail account from other email provider.
Tips: It's accessible in Hongkong.
Hotmail/Outlook/Live from Microsoft are working here;
Ymail/Yahoo! email, iCloud from Apple work here;
Most company email work here;
Most local Chinese they are using email from QQ, 126,163, Sina, Aliyun. Most of those email are Chinese friendly only, so they may not have very good speed in oversea, so not very suggested for you to have account from them.
What is unavailable here?
DropBox, Google Drive, One-drive.
Above all get blocked here in China. Before Dropbox was working for a long time but 2 years ago it finally got blocked. One-drive also work before but now it's hard to get connected, so it's not worth enough to make it for office tools.
Also there are some Chinese cloud drive before like Kuaipan, 360 Cloud Drive, etc all get blocked.
Now most VPN were blocked two months ago and less VPN can work here in China.
Finally, you can find below table as a summary for the internet status in China.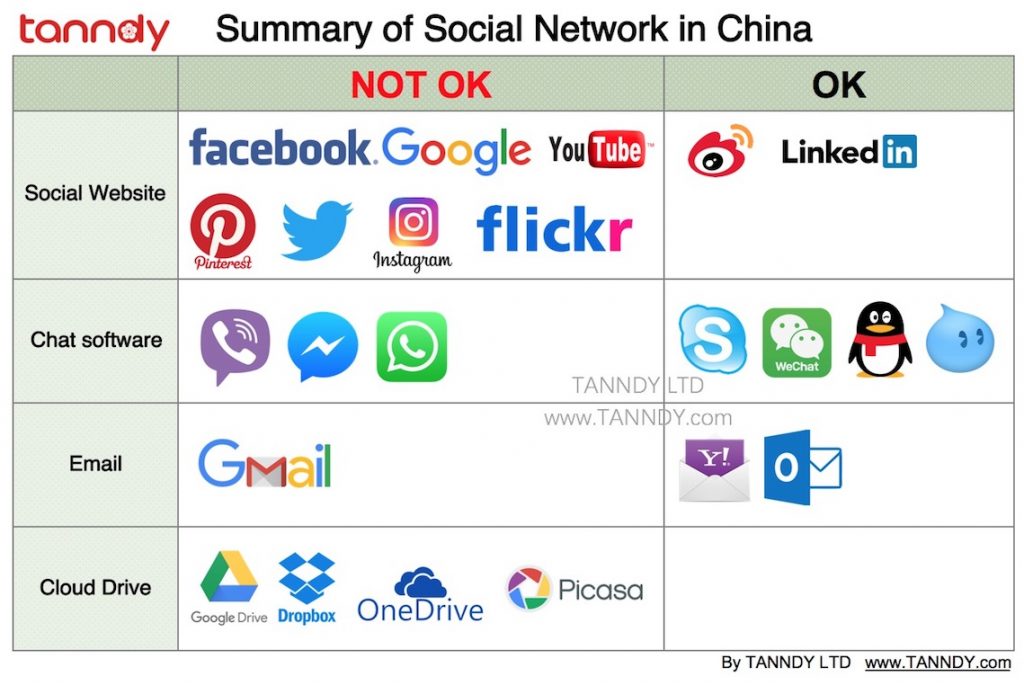 If you are going to travel to China and you have some work documents on Gmail or Dropbox or youtube then better to save it offline in advanced.
If you have problem contacting any supplier/Friend here in China then Tanndy Ltd is pleased to help you from here.
We have been doing trading(sourcing & exporting) in China for 11 years and we now are able to make the communication with high efficiency.
Tips: If you prefer a direct call or send email then you can follow below:
Lilian: 0086-18620045496 (on WeChat)
David: 0086-18620044981 (on WeChat)
Email: tanndy@tanndy.com
We will respond in 30mins during working time.