Yangpu Sinowell Shipping crisis escalates, operations suspended
Chinese domestic container shipping operator Yangpu Sinowell Shipping is now in deep financial trouble with the company's shipping business suspended due to its business partners taking legal action against the company.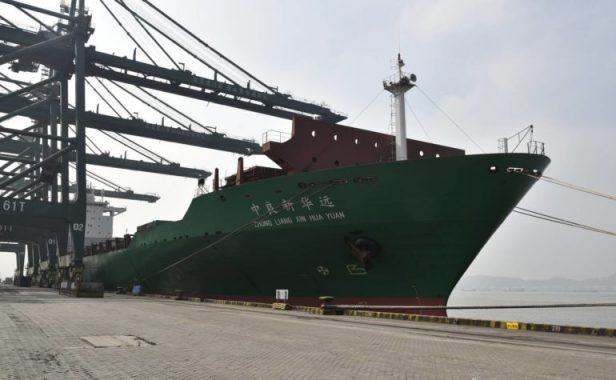 Earlier this month, rumours started spreading about the health of Yangpu Sinowell, however the company officially dismissed the rumours and said operations of the company were continuing as normal.
Splash understands that more ports, including Tianjin Port, Rizhao Port, and Taicang Port have joined Ningbo Port's action to charge clients hefty deposits for picking up containers from Yangpu Sinowell ships. Yangpu Sinowell has sent letters to the ports, questioning their right to charge the deposits and asking them to stop doing so.
Yin Xin Law Office, representing a group of container leasing companies, also sent letters, seen by Splash, to all parties that hold containers of Yangpu Sinowell, asking them to return the containers to the leasing companies immediately.
Additionally, the owners of the chartered vessels in the company's fleet are making attempts to take the vessels back.
In response to the actions against the company, Yangpu Sinowell released an announcement admitting the company is facing financial issues and said it has been working on a capital restructuring plan in which it would raise RMB300m ($46m) from investors to replenish working capital.
Yangpu Sinowell said in the release that untrue bankruptcy rumours about the company have created panic in the market, leading to some business partners suspending business with the company.
Sources close to the matter told Splash that the company's restructuring plan hasn't made any progress and has now been suspended.
Yangpu Sinowell Shipping is a subsidiary of Shenzhen Sinowell Logistics Group. The company operates a fleet of coastal containerships, mostly chartered vessels.
China's domestic container shipping market has been suffering in the past few years with many players going bankrupt including famous names like Nan Tsing Container Line.
Tanndy Ltd provide one-stop buying and shipping from China. If you need any assistance from here, kindly let us know. We are pleased to help.
Tips: If you prefer direct call, Message or email then follow:
David: 0086-18620044981 (on WeChat, WhatsApp)
Lilian: 0086-18620045496 (on WeChat, WhatsApp)
Email: tanndy@tanndy.com
We will respond in 30mins during working time.