Trump and EU officials agree to work toward 'zero tariff' deal
Donald Trump and European Union officials on Wednesday stepped back from a trade war as they struck a deal to work towards "zero" tariffs, barriers and subsidies.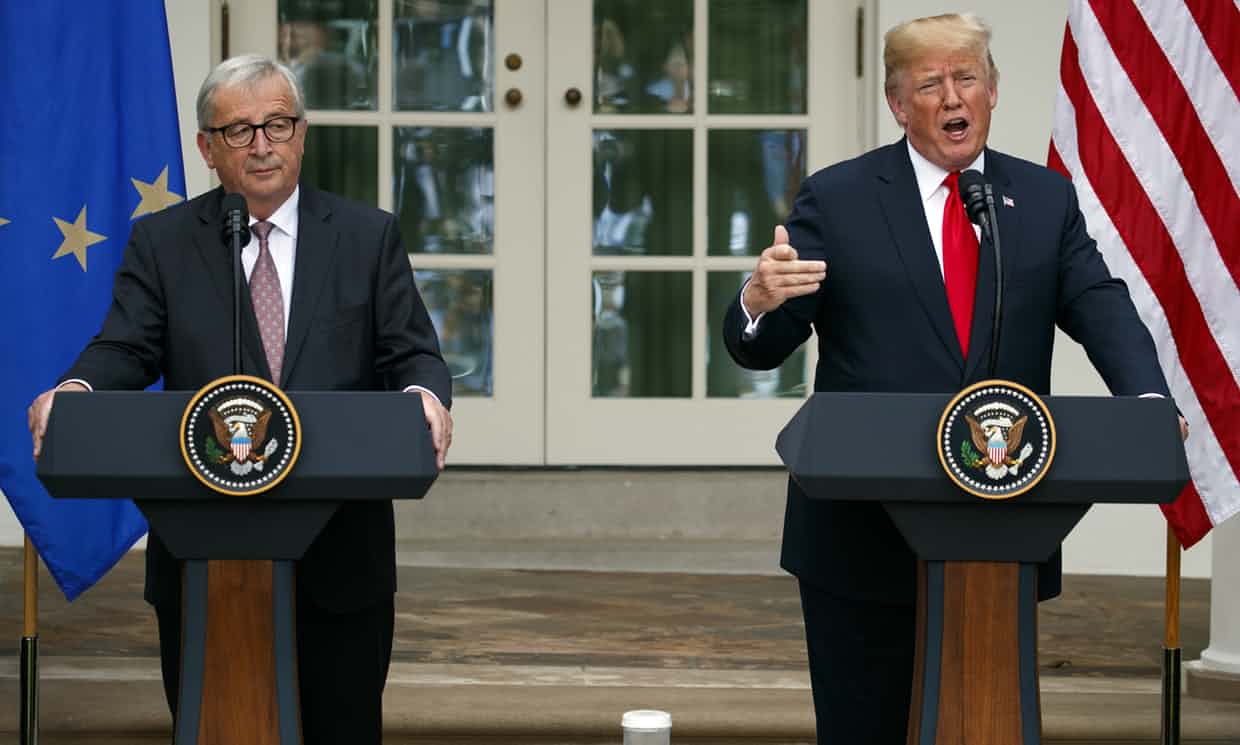 The EU also agreed to buy billions of dollars worth of American exports, including soya beans and natural gas, and work to reform international trade rules.
"So we had a big day, very big," the US president said in the White House Rose Garden, standing alongside Jean-Claude Juncker, the European commission president, and proclaiming a "new phase" in US-EU relations.
"We agreed today, first of all, to work together toward zero tariffs, zero non-tariff barriers and zero subsidies on non-auto industrial goods," Trump said to applause from several House and Senate members present.
Both sides agreed that there will be no escalation of the dispute for now and no new tariiffs will be imposed. Trump and Juncker also said they would "resolve" the steel and aluminum tariffs imposed by the US which started the dispute.
But while their remarks represent a breakthrough after weeks of stalemate, they were short of detail and given Trump's mercurial record, the detente could easily come undone as negotiations begin in earnest.
Experts urged caution. Bart Oosterveld, director of the global business and economics programme at the Atlantic Council thinktank in Washington, said: "The avoidance of a disaster is not a success. What I think we saw is the resumption of some basic dialogue. Individual items like soybeans and LNG [liquefied natural gas] are not massively significant. I don't think the EU would agree to a major revision of trade terms without steel and aluminium being taken off the table first."
Recalling numerous recent differences between the US and EU, ranging from the Paris climate accord to the Iran nuclear deal, Oosterveld welcomed the signs of cooperation. "To the extent they've agreed to continue to talk and take a joint approach to Chinese trade practices, it's significant. This puts everything on a slightly more stable footing. To see them make joint statements on the WTO, for example, is a positive we haven't seen in a while. But those of us who care about a rules-based order on global trade shouldn't run a victory lap just yet."
The US also remains on the edge of a full-on trade war with China and Trump has yet to step back from his conflicts with Mexico and Canada. He has long held railed against perceived imbalance in America's trade relationships.
Earlier on Wednesday, Trump accused China of being "vicious" and made further threats of retaliation. "China is targeting our farmers, who they know I love & respect, as a way of getting me to continue allowing them to take advantage of the U.S. They are being vicious in what will be their failed attempt. We were being nice – until now! China made $517 Billion on us last year," he .
At the surprise press conference, the US president also announced that the EU would begin importing more liquefied natural gas and soybeans from the US. Trump said: "The European Union is going to start almost immediately to buy a lot of soybeans – a tremendous market – buy a lot of soybeans from our farmers in the midwest primarily."
The impact of a trade war on agriculture has been a growing political concern. The White House has been forced to promise a $12bn aid plan to subsidise farmers hit by retaliatory tariffs imposed by China and the EU.
Trump said the EU-US negotiations would be led by an "executive working group" of "very intelligent people on both sides", aiming to make trade more "fair" and "reciprocal".
The US and EU, which have a $1tn bilateral trade relationship, would also work together to reform the World Trade Organisation (WTO) and cut down on unfair trade practices. Trump added: "This was a very big day for free and fair trade, a very big day indeed."
Sceptics will question, however, whether Trump is a reliable deal-maker, given his past record of contradictions and reversals. US officials have twice come to agreements with China over their trade dispute only for Trump to reject them and threaten to escalate the dispute.
Trump has previously threatened to impose tariffs on imported cars, prompting Europeans to suggest they may place tariffs on $20bn of American goods in retaliation. Trump has long railed against what he regards as exploitation by car makers in Germany in particular.
But on Tuesday he tweeted he had an "idea" for the EU. "Both the US and the EU drop all Tariffs, Barriers and Subsidies! That would finally be called Free Market and Fair Trade! Hope they do it, we are ready – but they won't!"
Wednesday's temporary truce was an apparent reprieve for Juncker, who has arrived hoping to stave off an all-out transatlantic trade war. In positive mood, he said: "I had the intention to make a deal today and we made a deal today. We have a identified a number of areas on which to work together."
He added: "As far as agriculture is concerned, the European Union can import more soybeans from the US, and it will be done.
"And we also agreed to work together on the reform of the WTO. This, of course, is on the understanding that as long as we are negotiating, unless one party would stop the negotiations, we will hold off further tariffs, and we will reassess existing tariffs on steel and aluminum."
The European Commission president then headed straight from the White House to the Center for Strategic and International Studies thinktank, where he said with relief: "It took three hours or something like that but we did it."
Striking a conciliatory note, he said: "We agree with President Trump that there is a lot that needs to change. There is global over-capacity in the steel sector that continues to harm our workers."
The US and EU must cooperate to "rewrite" the rules, he added, not tear up the rule book.
Welcome to contact us
Tips: If you prefer direct call, Message or email then follow:
David: 0086-18620044981 (on WeChat, WhatsApp)
Lilian: 0086-18620045496 (on WeChat, WhatsApp)
Email: tanndy@tanndy.com
We will respond in 30mins during working time.