Oman, China celebrate 40 years of diplomatic ties
Historic ties and future opportunities shared by the Sultanate and China were highlighted during events held in the Chinese capital to celebrate 40 years of the establishment of diplomatic ties between the two countries.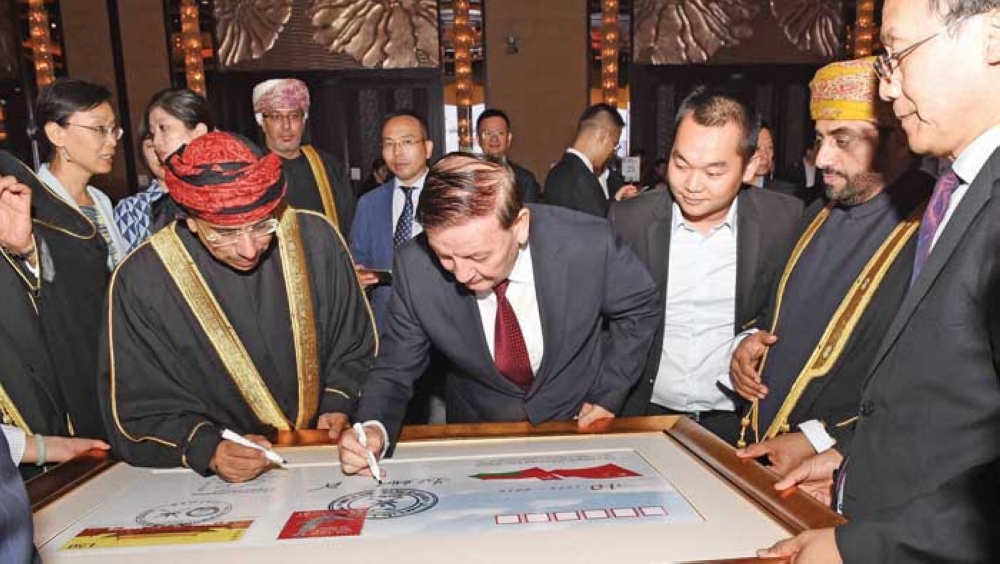 Dr Abdulmunim bin Mansour Al Hasani, Minister of Information, guest of honour Arken Imirbaki, Deputy Head of the Standing Committee of the National People's Congress and Chairman of the Chinese-Arab Friendship Association, a number Chinese government officials and ambassadors of other countries in China were present on the occasion.
Dr Abdulmunim bin Mansour Al Hasani, Minister of Information, delivered a speech during the event in which he said, "We celebrate together an important occasion for us Omanis, and for you our friends in the People's Republic of China, the occasion of passing of 40 years since the commencement of bilateral Omani and Chinese diplomatic relations on May 25, 1987."
Relations between Oman and China are not a passing event, but inevitable results of work dictated by the peace-loving spirit and humanitarian communication with the people of ancient and deep civilisation, he said, adding that Omani ships came with products from Oman and gifts representing the culture of the country as well as a deep understanding and great respect for the friendly China.
He pointed out that there are many common things between the two countries and great care and respect for international relations and consolidation of humanitarian noble principles such as maintaining global peace and a harmonious world.
He also spoke about pacts signed between the two countries about the cooperation in the Belt and and Road initiative besides a pact between Oman News Agency and New China News Agency.
From Chinese side, Lein Be, Deputy Chairperson Chinese Peoples Friendship Association with Foreign Countries delivered a speech in which she emphasised the Sultanate's historic importance as well as bilateral cooperation between two since establishment of diplomatic relations in all fields. She also spoke about the strategic relations between the two countries.
On the sidelines of the events, two lectures on tourism promotion and investment in Oman were held in Beijing. Delivering the first lecture Salem Adi Al Mamari, Director General of Tourism Promotion at the Minister of Tourism talked about the natural tourist elements in Oman and the infrastructure and facilities available for Chinese tourists and tourism companies. He also touched upon the pact signed by the two countries in this field in 2006.
In his speech, Abdul Karim Al Lawati, Director of Marketing and Investment Promotion at Duqm Special Economic Zone highlighted the strategic location of Oman and investment incentives provided to investors in general as well as to those seeking to invest in the economic and free zones, airports and ports, particularly in the Special Economic Zone at Duqm.
Welcome to contact us
Tips: If you prefer direct call, Message or email then follow:
David: 0086-18620044981 (on WeChat, WhatsApp)
Lilian: 0086-18620045496 (on WeChat, WhatsApp)
Email: tanndy@tanndy.com
We will respond in 30mins during working time.