Multi-Vessel Pileup in Suez Canal
On Sunday evening, a grounding in the Suez Canal led to a multi-vessel pileup. The container ship Aeneas reportedly went aground, and three bulkers following her in the convoy collided. The boxship was not involved in the collision herself, and she was refloated and towed to Suez.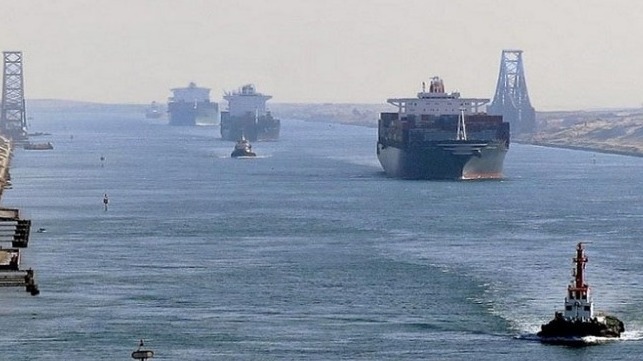 The bulkers involved in the multiple collision were named as the Sakizaya Kalon, Panamax Alexanderand Osios David. After the vessels were cleared and towed away, the northbound container ship NYK Orpheus had a separate collision with the Panamax Alexander. 
Separately, the crude oil tanker Kimolos (IMO 9791145) grounded briefly in the canal on Saturday, before the collisions. In addition, an unnamed bulker of 39,929 dwt and about 12.2 meters draft went aground on Monday, according to GAC. According to the Suez Canal Authority, the bulker was refloated the same evening and arrived at the Great Bitter Lakes by Tuesday morning.
The multiple casualties led to delays for dozens of northbound and southbound vessels, but the waterway is now ready for resumed transits, according to the SCA. GAC reports that the authority has not yet released a timeline for transits for all of the affected vessels.
The Aeneas and NYK Orpheus have both continued on their voyages, according to their AIS signals. As of Tuesday evening, the Kimolos, Sakizaya Kalon and Panamax Alexander remained at anchor near Suez.
Welcome to contact us
Tips: If you prefer direct call, Message or email then follow:
David: 0086-18620044981 (on WeChat, WhatsApp)
Lilian: 0086-18620045496 (on WeChat, WhatsApp)
Email: tanndy@tanndy.com
We will respond in 30mins during working time.