Inside the Wal-Mart vs. Amazon Battle Over Black Friday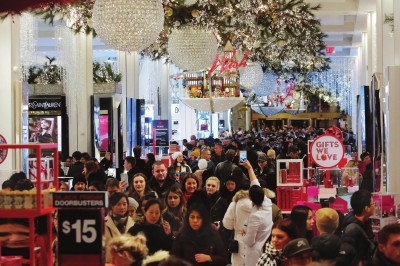 Wal-Mart Stores Inc. and Amazon.com Inc. battled to capture spending over the holiday weekend, as the shifts that have upended the retail industry this year were on display: fewer people visited traditional stores on Thanksgiving and Black Friday while online purchases continued to surge.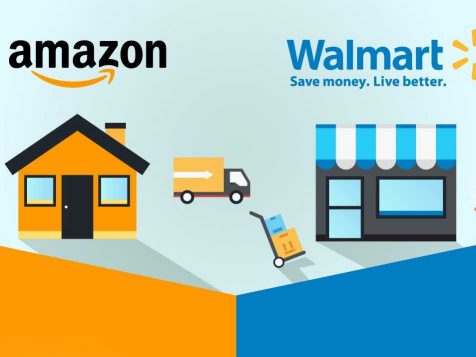 On Thanksgiving evening, Alex and Yanira Garcia, who say they traditionally buy nearly everything on Amazon, chose to stand in line at a busy Wal-Mart store in Westbury, N.Y., to purchase pajamas, toys, a TV and other gifts that filled two shopping carts.
"I heard that lots of stores are giving you deals so you come in the store," said Mr. Garcia, a 39-year-old cook at an elementary school. "So here we are."
The number of people visiting U.S. stores on Thanksgiving and Black Friday fell 4% from last year, according to RetailNext Inc., which analyzes in-store videos to count shoppers. Meanwhile, online sales increased 18% over that period, said software company Adobe Systems Inc., a shift that is forcing traditional retailers to adopt new tactics.
Best Buy Co. chose to hold back some deals from its website. On Saturday morning, the retailer started selling only in stores a retro Nintendo game console, the Super NES Classic, which has been in short supply since it was released in September.
Wal-Mart also calibrated the selection of discounted products it offers online versus in stores, U.S. CEO Greg Foran said in an interview.
Online, the retailer offered more electronics and bulky toys that customers want shipped to homes, then stocked stores with additional lower-priced deals like $5 DVDs, pajamas and other items customers prefer buying immediately or are unprofitable to ship, Mr. Foran said.
In stores, "is [Black Friday] the mayhem that it might have been 8 or 10 years ago?," Mr. Foran said on Thanksgiving. "I think that world is gone."
ShopperTrak, another firm that measures foot traffic to traditional stores, found that visits declined a combined 1.6% on Thanksgiving and Black Friday from a year earlier. While most big chains still opened on Thanksgiving evening, some retailers adjusted their hours after discovering that the extra hours didn't necessarily lift overall holiday sales. Target Corp., for example, closed its stores from midnight Thanksgiving until reopening at 6 a.m. on Black Friday.
Rosa Hilburn, 58, was among the first people inside a Target in Houston on Black Friday morning, but she was in and out in minutes with only a small bag of loot — several shirts and a Garth Brooks album for her husband.
Ms. Hilburn said she was "really shocked" there weren't more people at the store, but attributed it to the changing times. "Most people do it online now like the millennials," she said. "But I still like to see and touch things."
Al Rao, 44, and her sister-in-law Sunanda Dugar, 43, were walking through a Los Angeles mall on Thanksgiving with just one shopping bag. The duo have made going to the mall on Thanksgiving night a tradition, even though both do nearly all of their shopping year-round on Amazon and Google Express.
"Going to the mall is very rare for us now," Ms. Rao said.
In-store sales still account for about 90% of retail purchases, according to the U.S. Census Bureau, but the balance is shifting fast. Adobe said $7.9 billion worth of merchandise was purchased online on Thursday and Friday, and expects Cyber Monday to be the largest online shopping day in history, with sales up nearly 17% to $6.6 billion.
Surging e-commerce sales means round-the-clock staffing this week at the sprawling fulfillment centers where workers pick, pack and ship online orders.
On Black Friday, "we actually got so many orders that we jammed up our conveyor" belt, said Ilias Simpson, who manages two Kentucky warehouses where logistics firm Radial Inc. handles e-commerce fulfillment for Dick's Sporting Goods Inc. and other retailers.
Wal-Mart has added tens of millions of products to its website over the past year, so heading into the holiday shopping period around 75% of the most frequently purchased toys were on walmart.com, the highest percentage of a traditional retailer, said Guru Hariharan, chief executive of Boomerang, an e-commerce performance firm that studies pricing and other metrics.
Meanwhile, Amazon made it harder for other retailers to match its prices, more frequently blocking technology that tracks its prices, said Mr. Hariharan. Amazon often kicks price-tracking technology off its site to prioritize customers when traffic surges. An Amazon spokeswoman said that the company hadn't made changes to its practices regarding price-tracking bots.
Amazon offered its own special deals on Thursday and Friday. "Instead of having to go to the store, your shopping experience comes to you," Dorion Carroll, vice president of mobile shopping at Amazon, said in an earlier interview.
Amazon also tried to create some holiday store frenzy. After purchasing grocer Whole Foods earlier this year, Amazon offered a discount on turkeys, plus an extra markdown for members of Prime. The online giant also used more than 100 of its 470 Whole Foods stores to sell its discounted gadgets.
Amazon has an advantage as online sales rise. More than 50% of online product searches start with the site. It also commanded an average of about 42 cents of every dollar spent online through October, compared with nearly 2 cents at Wal-Mart, according to Slice Intelligence, which tracks a panel of more than 5 million U.S. shoppers.
Madison Lennon of Virginia Beach, Va., headed to her nearby Wal-Mart Friday afternoon to load up on DVDs from the discount bins. But first the 24-year-old, who works at a movie theater, checked Amazon's prices.
Most were priced similarly or weren't available, she said. So she decided to head to Wal-Mart to "see if they have them for a cheaper deal, " she said. "And if not, I'll come home and buy it on Amazon."