7 Useful tips for visiting Guangzhou Fabric market
Guangzhou has several fabric wholesale market which attract many buyers from the world. Here you can find different fabric and accessories with different designs and quality.
Here we come up 7 useful tips for visiting fabric wholesale market in Guangzhou.
Note on weight difference
"Weight +/-" is a concept if you buy fabric calculated by weight (KG, Ton), which is defined by Chinese fabric market. In our experience, most of time it is " weight – ". That is the reason we talk. We warmly remind you that purchase 2-3% more to avoid bring inconvenience to you.
The difference is understandable. It is the same situation as paper product. Factory produce paper product with a batch of raw material. There is more or less finished product as It is hard to judge exactly suitable material.
Color difference for sample & bulk order
We all know that the actual color is difference with color in picture, but you also need to know that even the color of sample is different from the color of finished product. If you are a perfectionist, it is better to ask supplier first to see if they can do the same.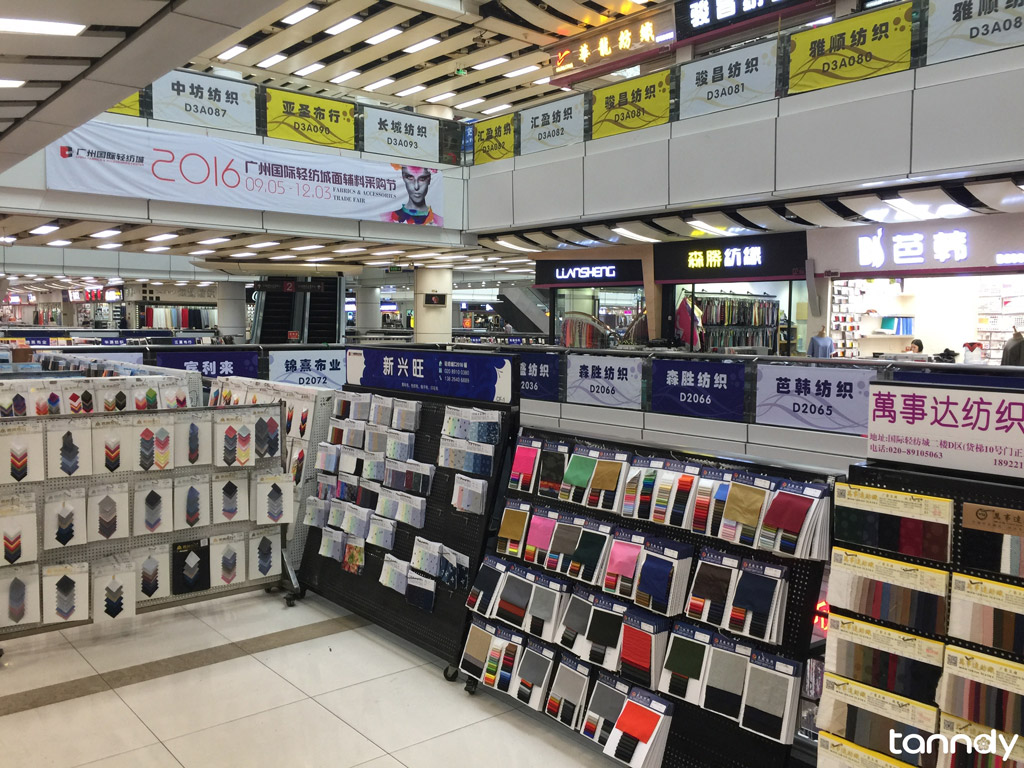 Sample swatch is for free
Generally, it is free, when we get some color sample showed in shop or hallway if we are interested. If you want to cut some fabric sample to try design like several meters, you need to pay for sample fee.
Morning is better than Afternoon
When is the best time to visit fabric market? I understand that you want to sleep in and get energetic, then go to market after your lunch, you will regret it. Supplier in market is super busy in the afternoon, they don't have time to treat you well. In your interest, we will suggest you to go to fabric market in the morning.  They start business at 9-9.30 am.
Buy the sample immediately
The goods fluidity is great in Fabric market, it means it is quite possible that it is sold out when you want to buy something after one week. So if you are highly interested in some design, ask supplier to keep for you. Or they won't produce again.
Biggest fabric market
There is big and main fabric market in Guangzhou, called China Fabric & Accessories Center.
There are 8 layers and 6 areas. You can find all kinds of accessories in the negative layer. Between 1st to 6th layer, there are different kinds of fabric, including cotton, linen, knitted, woven, sports breathable, water proof fabric and so on. The higher the layer, the better the quality. On the top layer, there are some restaurants and coffee shops for visitors.
Look around for more options
If you have enough time, we recommend you have a look nearby. Also some fabric market are located here. But in contrast, whether it is a street or a building for fabric, it is not complete and concentrated enough. Usually one street or small place sell one or two kind of fabric. In my opinion, you should know very well about the whole place there, then you can find your fabric. When you finish in China Fabric & Accessories Center, try the place nearby, maybe you can find some incredible thing.
We believe that you will enjoy to visit fabric market in Guangzhou, if you need a fabric buying agent in China, please do not hesitate to contact us. We have professional team and we are glad to service you!
Welcome to contact us
Tips: If you prefer direct call, Message or email then follow:
David: 0086-18620044981 (on WeChat, WhatsApp)
Lilian: 0086-18620045496 (on WeChat, WhatsApp)
Email: tanndy@tanndy.com
We will respond in 30mins during working time.