Why its not suggested to source building materials on Alibaba for your house?
When you are building your own house then you will properly be looking for different building materials like tiles, sanitary, lighting, doors & windows, kitchen and furniture etc. You might start to source those materials from local market or from China directly.
When sourcing from China people used to source on Alibaba. As Alibaba is the biggest B2B platform in China and you can find everything there. However, its not a good way to source building materials on Alibaba for your house. Why? Lets tell you today.
Hard to choose from big selection of suppliers
On Alibaba, there are many many suppliers, sometimes too much will also be a headache. For example, if you source toilet then it will provide at least 100+ suppliers. Each supplier will say they are best supplier for toilet. Which one to choose? You really don't know.
So normally you have to send inquiry individually one by one. For example, for toilet you might need to send inquiry to more than 10 or 20 suppliers to finally get 1~2 suppliers to work with. Its just for toilet suppliers, then for lighting another 20 suppliers to talk with, table, another 20 suppliers to talk with…countless suppliers to talk with for different items. Its really time-consuming and boring, isn't it?
Also, some suppliers on Alibaba always saying that they are the factory, not the traders. And you can also see some "factory looking" pictures on their website. You really don't know if you should believe them or not. Because in fact a lots of them are JUST traders, they take goods from other factories and sell to you by saying they are the factory. It will be difficult for you to distinguish real manufacture and trader.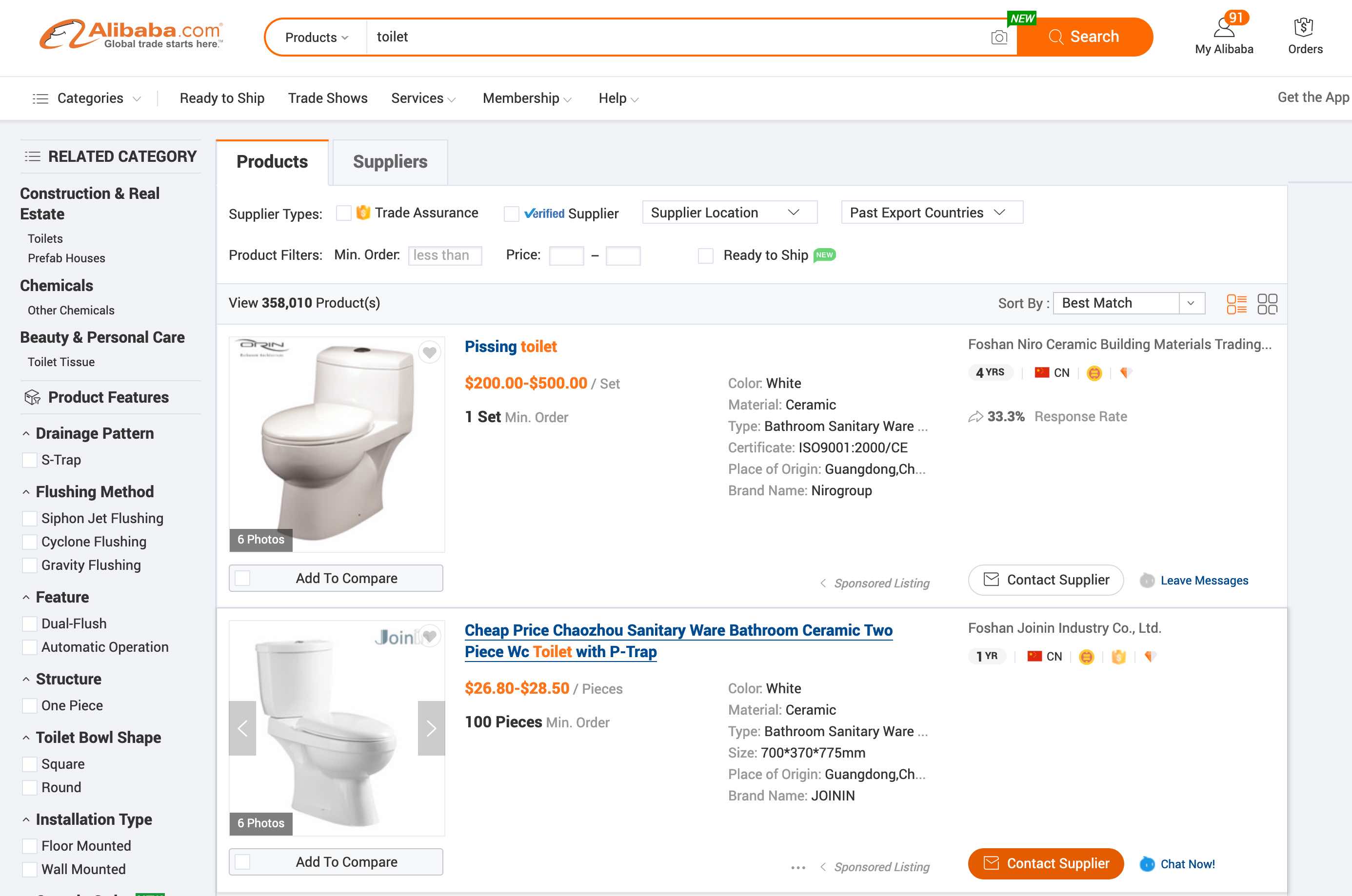 Big MOQ from one supplier
As you are buying for your house, so you might not be able to buy big quantity for each item. For example, you may only look for 2 dining table, 5~6pcs toilet. You can not buy more than 20pcs or 50pcs toilet. So in this case, the suppliers on Alibaba are mainly for business. They always expect you a bigger MOQ from them. If you are doing a building project and looking for 50 or 100 rooms, then you will be their target client.
However, if you are just looking for items for 2~3 rooms, some suppliers on Alibaba will accept your order but they may not pay serious attention on it. The price they gave you will be higher than their MOQ.
Consolidation
If you buy from different suppliers on Alibaba, you will face one issue – Consolidation. You have to arrange the goods into one place for loading container. As no supplier will consolidate for you and export goods from other suppliers on their own title. So you have to find a buying agent in China. Who will receive goods from different suppliers, mix them into one container and export under their title.
One more thing is that, if you source on Alibaba, different suppliers are located in different places. They may be far away from each other. So this will cost a lots for domestic freight.
You can't touch the quality from the picture
As on Alibaba all you can see if just picture and description, you can touch the quality. For example like the leather sofa, its saying its rough surface, without physical touch you can't really have the right concept about how rough it is?
Also some items looks really nice on Alibaba as the seller will take very good photo, after taking photo they also do some PS so the pictures for the items really looks good. But the actual goods is not that beautiful. Isn't it?
Welcome to contact us
Tips: If you prefer direct call, Message or email then follow:
David: 0086-18620044981 (on WeChat, WhatsApp)
Lilian: 0086-18620045496 (on WeChat, WhatsApp)
Email: tanndy@tanndy.com
We will respond in 30mins during working time.