Where to buy building materials in China, Guangzhou or Foshan?
If you are looking to
buy building materials from China
, most people will think to visit Guangzhou. As Guangzhou is more famous here in China. But in fact, the neightbour city Foshan is much more professional in building materials & furniture. Its the most peoples first choice.
By 1 hours drive from Guangzhou, Foshan is the manufacturing base of tiles, sanitary, hardware, furniture in China. Nearly all the building materials in China come from Foshan. Below are some points about buying building materials from Foshan.
Ceramic in Foshan
Foshan is the manucfacturing base of tiles in China. Its has more than 1000 tiles manufactures. All the top brand like Toto, Dongpeng, Hcg are all located here. Here there are several hug tiles market, like foshan ceramic center, cihai internationl center. Inside the market, each supplier has one building of showroom. So there are really many choice here to check.
Furniture market in Foshan
Shunde district in Foshan is the manufacturing base of furniture in China. It has the biggest furniture market in China. There are furniture market like Loure furniture market, Sunlink furniture city, Foshan International Furniture Expo Mall etc. Some markets are mainly for export, so the styles there are suitable for export, as well as the packing and delivery.
In Guangzhou, there are also several furniture market like Kimhome, Hongshuwan furniture market. Those markets are mainly for domestic. The styles are more Chinese styles. As the domestic demand always expect free delivery, installation &  after sales service. So the seller used to add some cost for those service. They don't know well about the export buyers request comparing to the sellers in Foshan.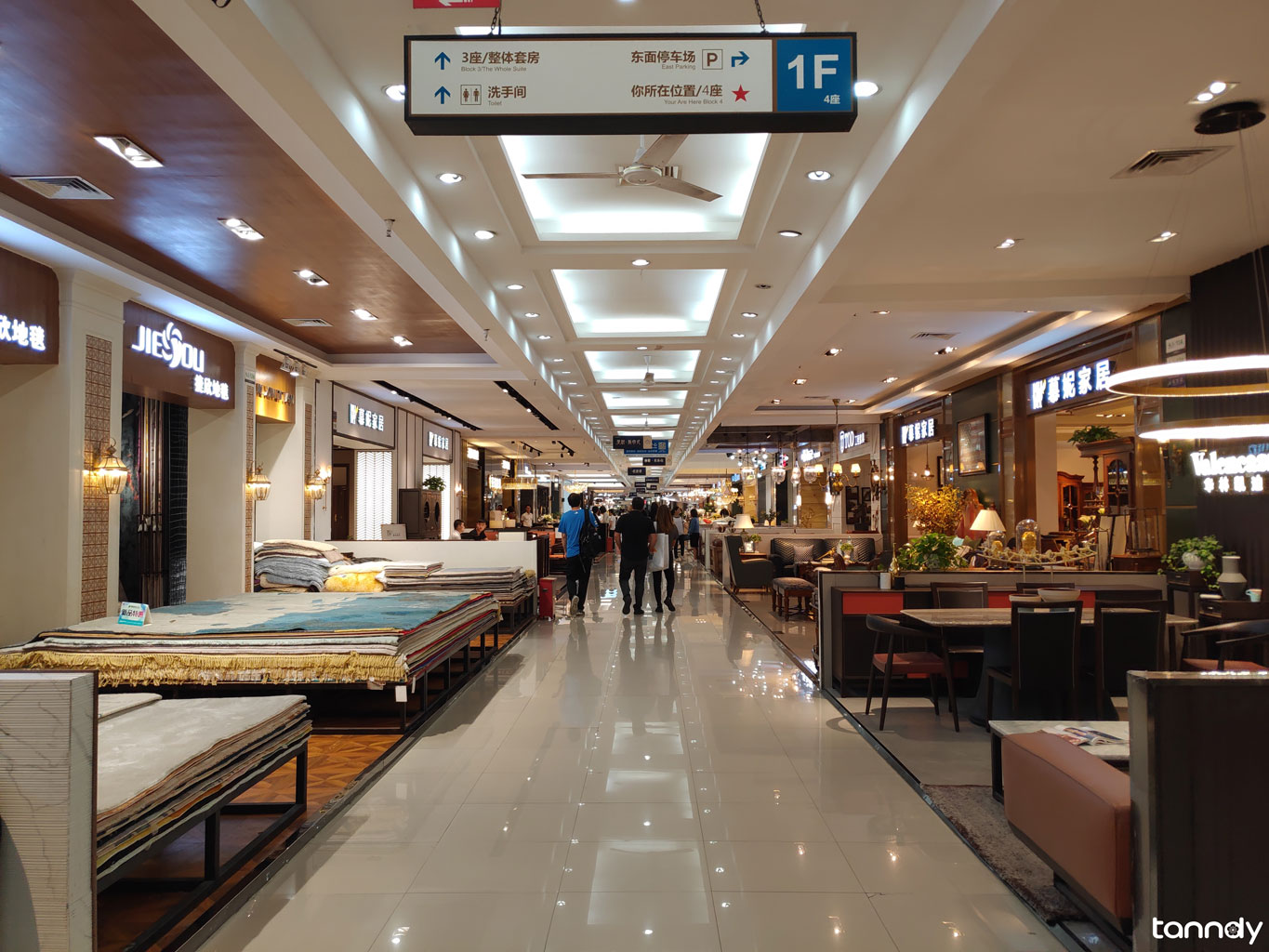 What markets in Foshan?
Foshan has the biggest building materials wholesale markets in China as well as the sanitary markets. Like Huayi building materials market, Casa Sanitary market. Here you can find lots of suppliers there with much ore choice and better price. As here is the source of building materials, so the price here will be very good.
It also has the biggest and most high-end furniture market. Louvre is the most high-end furniture market in China. Meanwhiles Foshan has many other more than 20 wholesale market from mid-range to low, as well as from modern to classic styles.
How to visit Foshan?
Foshan lcoated to the west of Guangzhou as a neighbour city. The buildig materials markets are located in city center of Foshan which are about 40km from Guangzhou.
So normally you can travel there by car. Most people would prefer hireing a business vans to go. As the van is normal 7 seats business car like Buick GL 8, Honda Odsyee. They can pick up from the hotel, drive you around and drop you back at the end of the day.  Depends on places you want to visit, they used to charge US$55~80 including petrol & toll fee.
However by Taxi is cheaper than private car for single direction travel. If you want to visit one market to another in Foshan then you have to catch another taxi, however, the Taxi is hard to catch in the market area.
If you do not want to take any car then you can treval there by Metro. Catch any line in Guangzhou and transfer to GuangFo Line. Get off at Zumiao station, Exit D, and catch a taxi for 5~10 mins drive.
Where to stay?
Although is just 50mins by car from Guangzhou to Foshan, the busy traffic may take you more time on the way to Foshan. Its neither a comfortable experience when there is a heavy traffic on the way, which may affect your feeling when visiting in the market.
So staying in Foshan is a suggested & comfortable way, to have short travel everyday. If you look for hotels in Foshan, below are some references for you.
For visiting furniture market:
Overall, wish you a very successful buying of building materials from here. If you need assistance then we are pleased to help.
Welcome to contact us
Tips: If you prefer direct call, Message or email then follow:
David: 0086-18620044981 (on WeChat, WhatsApp)
Lilian: 0086-18620045496 (on WeChat, WhatsApp)
Email: tanndy@tanndy.com
We will respond in 30mins during working time.