Brazil, About 300,000 truckers block roads to protest fuel hikes
The truckers' strike and blockade that has afflicted the key Brazilian Port of Santos has spread to dozens of other ports — causing delays and disruption for shippers and their supply chains up and down the South American country's 4,650-mile coastline.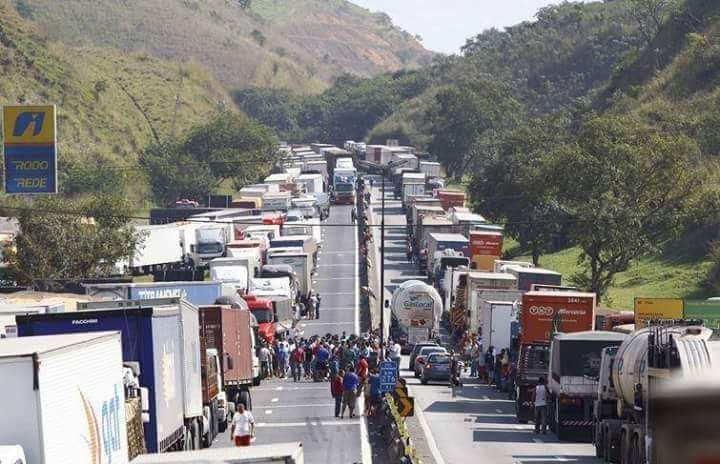 About 300,000 autonomous truck drivers in 18 ports in 15 Brazilian states held protests and blocked traffic Monday at those same sea ports, with several others joining Tuesday, along with dry inland ports. At mid-day Monday, Brasilia time, the Brazilian Association of Truck Drivers (Abcam) announced that the strike action was spreading and would entail, by the end of Tuesday, stoppages at more than 22 seaports and dry ports in 18 Brazilian states.
The net impact for shippers is this: import cargo has been delayed 10 to 22 days and export cargo from five to eight days (or more) by the customs officers' strike in Santos. Add at least another day or two, depending on the port and the number of containers a shipper is having transported, for the impact of the truckers' job action.
Truckers cite rising fuel prices
Truckers and others are striking because Petrobras, the state-controlled oil company, has gradually increased diesel prices — by more than 40 percent ­— over the past six months, so that they more accurately reflect market-based, international oil prices, rather than the artificially suppressed prices under former president Dilma Rousseff. (Rousseff was impeached in August 2016.) Rousseff's policy was designed to contain inflation and also to encourage truckers and their families to continue to support her political party, PT.
On top of the fuel product cost increase, the Temer administration, strapped for cash, has increased fuel taxes/fees — by more than 80 percent in some cases — to help Brasilia balance its budget.
"We will keep up the blockades until the majority of the taxes are removed and the price comes down," said an Abcam spokesperson, who spoke on condition that he not be identified by name. "Our truckers cannot make a living and support their families once fuel costs and expensive highway toll charges are taken away from their monthly income."
The spokesperson said that of the 30,000 reais ($8,188) average monthly income of Abcam truckers, about 42 percent, or 13,000 reais is spent on diesel, and another 5,000 reais on road tolls. Add vehicle maintenance and insurance expenses, and the net is about 3,000 to 4,000 reais for the driver and his/her family.
Abcam president José da Fonseca Lopes held meetings Tuesday with Temer, plus the ministers for transport and ports, home office, planning and energy, with the aim of persuading Brasilia of eliminating all taxes on fuel. If that goal is not achieved, Lopes said, the blockades will continue.
Among the ports most affected are: Paranagua (Brazil's second biggest for containers with more than 1.2 million TEU handled in 2017), where about 2,000 trucks per day are being blocked or are blocking the main highway to the port; Rio de Janeiro (where 16 major highways are blocked or partially blocked); Santos, Rio Grande, and Itajai (where at least six state roads are blocked); and inland roads in Minas Gerais — a key, land-locked state for coffee, minerals, and soya exports — where another six highways are blockaded, preventing this cargo from reaching the ports of Rio de Janeiro, Vitoria, Sepetiba (Itaguai), and Santos.
Abcam said that several diesel price hikes from Petrobras, the state-controlled oil company, have triggered a 40 percent surge at the gas pump: from 3.50 reais per litre to 5 reais ($3.78 to $5.20 per gallon) for diesel. Brazil's price controls were removed by the government in October. Prior to that, the Rousseff administration had maintained strict price controls for more than two years.
The truckers union says the price increases have made it "intolerable and impossible" for the one million truckers in Brazil to make a living and is therefore calling for the Temer administration to slash the 43 percent tax currently imposed on each liter of diesel for his members. The 300,000 truckers in Brazil who are not members of Abcam are mostly said to have adhered to the picket/blockade, with only civilian automobiles being allowed through those blockades.
The Temer administration said Brasilia cannot do this, as one of the main sources of government revenue is the fuel tax.
States hard-hit by blockade
The states of Paraná and Santa Catarina (both key chicken and pork exporters), plus Goiás, Minas Gerais, and Bahia, experienced the highest number of blockades and partial blockades Monday and Tuesday, according to data from the Federal Highway Police.
One shipping agent based in Santos, who spoke on condition he not be identified by name, said Santos and Paranagua have been hit particularly hard, as the ports are moving through one of the peak periods of the soybean exporting season.
"We have been just about managing with the strike by the Receita Federal [customs officers] but now this is sending the transport arteries over the edge and the country could soon come to a standstill, if one of the sides does not back down," he said. "It could not have come at a worse moment. The economy is picking up and exports and imports have been improving but now as we move into one of the busiest parts of the soybean export season and a key period with television purchases before the World Cup [which runs from June 14 to July 15] coming in from the Far East and from Manaus, we really could do without one strike after another. We have had enough of this but there are presidential elections in October and so the whole country is in a mess."
Despite the protests in Santos last week, Petrobras announced Monday a further increase in the price of diesel and gasoline from its refineries and at its gas stations.
"Abcam believes the latest, new fuel increases are a disgrace to all Brazilian workers," said Lopes. "But Temer does not understand that this attitude only strengthens the strikes and protests of our truck drivers and encourages other groups of workers to also join in with our manifesto calling for fair play and prices for all."
Further, the customs officers strike has intensified over the past two weeks, and its impact is hitting the nation so hard that the national media is paying much closer attention to it than they did during the dispute's first few months.
Robert Grantham, a director for Solve Shipping, the Navegantes-based consultancy firm, said that these are becoming troubled times for Brazil, but he argued that, hopefully, the extra focus by the national and local media will lead to some negotiation, compromises, and solutions.
Tips: If you prefer direct call, Message or email then follow:
David: 0086-18620044981 (on WeChat, WhatsApp)
Lilian: 0086-18620045496 (on WeChat, WhatsApp)
Email: tanndy@tanndy.com
We will respond in 30mins during working time.