What Should You Notice When Buying Porcelain Tiles from Foshan China
Porcelain tile is very popular around the world for its sanitary functions and artistic usage. Buying porcelain tiles from China has become the choice of many buyers. How to buy porcelain tile from China with good quality and at a reasonable price? Here are 5 tips you can't miss.
Know What Tiles You Want
Before you visit building material markets in China, you should know what porcelain tiles you want in mind, such as materials, size, functions, textures, colours etc. When you source in the market, you need to distinguish the differences between porcelain tile and ceramic tile. Porcelain tile is more solid and dense. It has low water absorptivity and at a higher price. The different functions of porcelain tile are also critical in sourcing progress, such as chemical resistance, flame-resistance, weatherproof, slip-resistance, scratch-resistance etc. If the tile is for indoor use, you may hope it won't absorb odours or emit hazardous chemicals, swell or contract in extreme temperatures, and be easy to clean. If you use the tile in the bathroom, waterproof and slip-resistance are key factors to consider. Only after you have a clear clue about your ideal tiles, you can save more time and cost during the sourcing progress.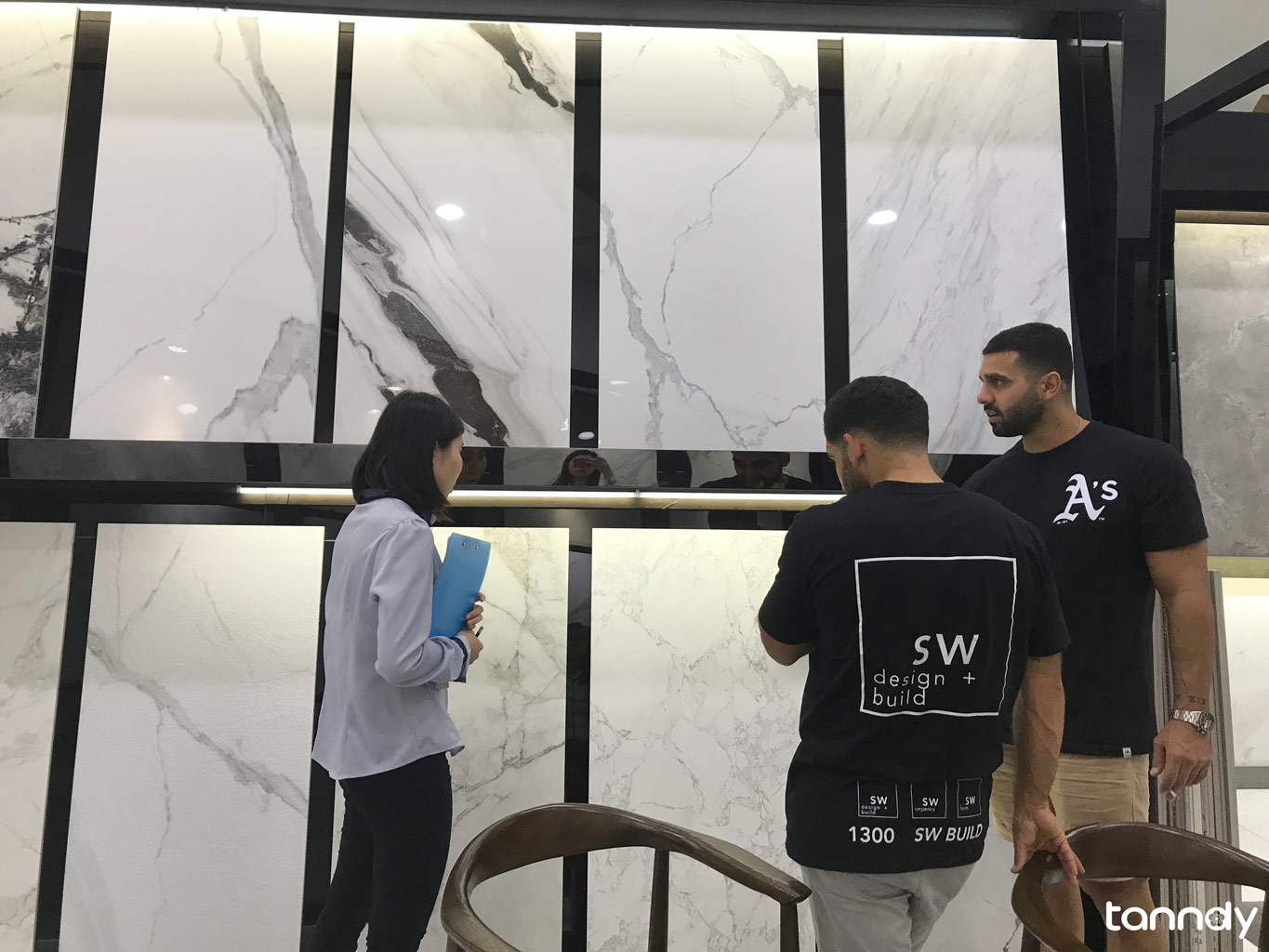 Pay Attention to Quality
During the procurement, buyers should check labels of tiles to see if they have 3A sign which means the tile is superior products and qualified to export. The sign is an approval standard in China. You can also check the quality of porcelain by putting waterdrop on the backside of a porcelain tile. If water is quickly absorbed, it means this tile has high absorptivity and is with poor quality. When you source tiles from China, you should choose the products of regular manufactures and do not purchase inferior products at an unusually low price. A comprehensive consideration during sourcing progress is also critical. All this, including quality, brand and services etc. decide whether you can buy the porcelain tile you want from China.
Buy Extra 10% of Total Quantity as Backups
Porcelain tiles are easy to be broken. Cutting tiles to get a proper shape may cause waste. All these are uncertainties and will cause the loss of tiles. Therefore, if you have a room of 100 square meters to decorate, it'd better buy 10 square meters of porcelain tiles as backups. Not having enough tiles are usually happen during decoration. In this situation, the whole process will have to stop and wait. Besides, the same tiles from different batches may have a tiny difference in colour. If the colours can't match the one you bought before. It will affect the appearance and may cause another kind of loss.
Checking Details with Suppliers
Before you make orders, you need to double check every detail with suppliers. Some suppliers do not provide freight service. Price of porcelain tiles they give you do not include forklift charge, delivery charge, landing charges etc. Some other supplier may have one-station service from helping you source to loading products you need. But it means you need to pay extra money for the services listed above. In this situation, finding an export agent may give you support and help you save more time and unnecessary cost.
Proper Packaging and Loading
Porcelain tiles are easy to be broken. Proper packing and loading of goods matter most. To avoid the damages which may happen during shipment is quite important, such as putting heavy products on the bottom, making goods that slide easily fixed and filling the gaps among products etc. Proper measures can help to reduce the risks of damages that may happen in bumping and rough handling. So that you can avoid unnecessary waste, and ensure a successful purchasing of porcelain tiles from China.
If you decide to source porcelain tiles from China, the above tips can help you save time and unnecessary cost during sourcing. Only when you have a sound plan, your visiting to market will be more smooth.
Welcome to contact us
Tips: If you prefer direct call, Message or email then follow:
David: 0086-18620044981 (on WeChat, WhatsApp)
Lilian: 0086-18620045496 (on WeChat, WhatsApp)
Email: tanndy@tanndy.com
We will respond in 30mins during working time.