10 Questions you should ask when buying tiles in China Foshan
Many people from different countries are buying tiles from China, for their own house or project. As there are so many different tiles, different size, quality, how to choose the right tiles for you? Here are 10 questions you should ask when buying tiles in China.
#1 How many square meters do I need?
This is a basic question which will make your visit/buying quicker. Many people come here and start checking in the tiles showroom, but they found they do not have the correct square meters for the tiles. So the supplier can not give you correct price immediately.
Normally if you already had the house designer done the architectural layout then there should be the square meters. If not you can ask the designer give you the correct square meters. Like what sizes for sitting room, bedroom, kitchen and bathroom etc.
#2 How many extra quantity should I order?
This is an important thing to care about. Normally people just order the quantity show on the house layout. For example the sitting room of their house is 60sqm and they just buy 60sqm tiles. This is not enough and not safe. As there will be some corner which need to cut the tiles, or there will be some tiles get damage during installation or transportation. So to be safe, you should at least purchase 10% more of tiles. For example if your sitting room is 60sqm then you should purchase 10% more to be 66sqm.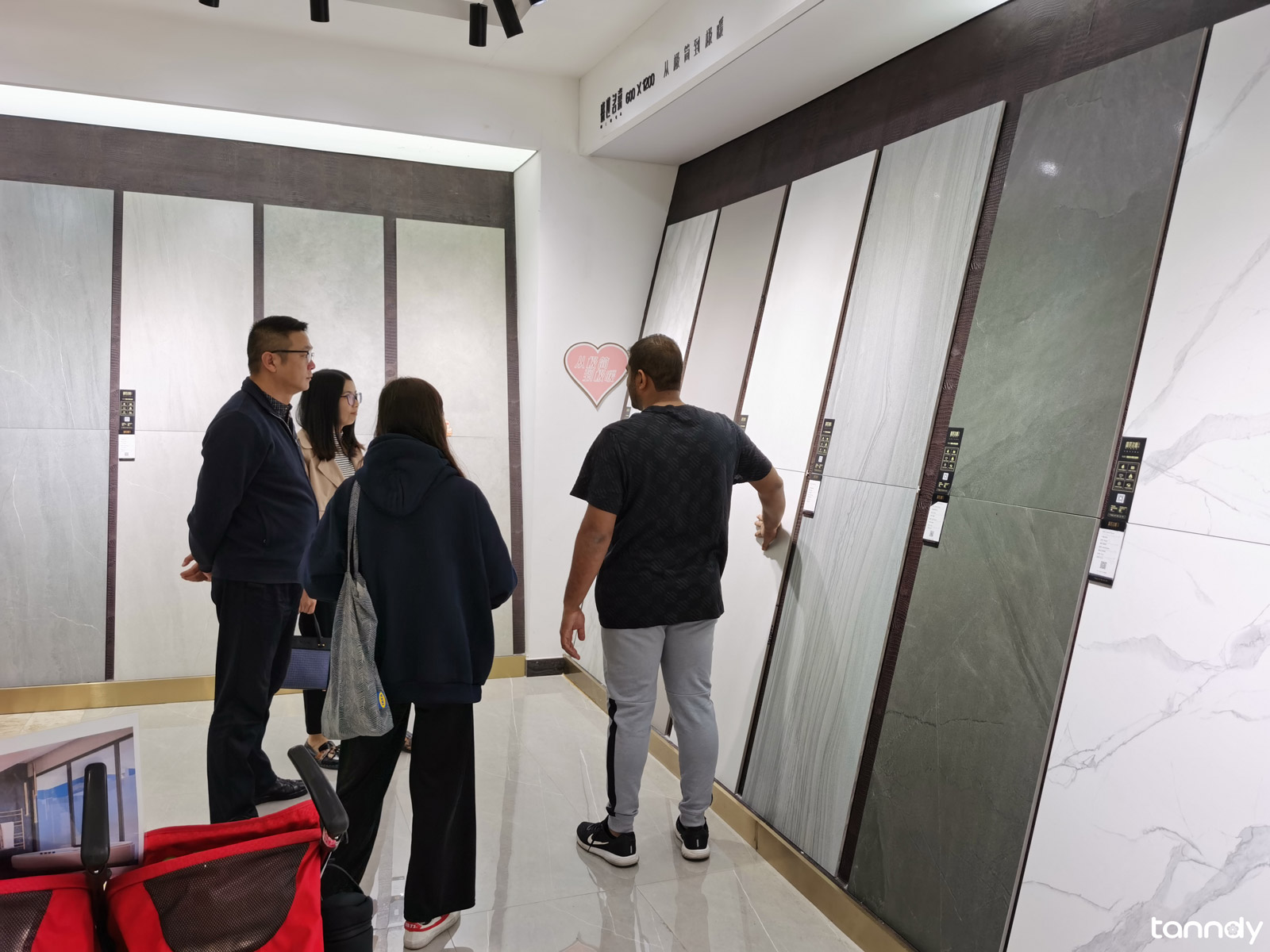 #3 What style do I need?
You should better decide what style of your house first. Classic style, Morden style or other style you preferred. As here there are so many kinds of tiles, different colors like white color, beige color, brown color, natural color, black color….most of them are really beautiful, you will easily 'get lost' by different items. But kindly note that they might not be the same style, if you just think they are beautiful and just want it, then your house will be no certain style.
So best to decide first what style of your house.
#4 What size is better? 30*30cm, 60*60cm, 80*80cm, 60*120cm?
There are many different sizes for the tiles, from small to big and extra big. Small sizes like 30*30cm, 30*60cm, medium like 50*50cm, 60*60cm, 80*80cm, big size like 60*120cm, 80*160cm. Which size to choose?
If the room size is within 10sqm then normally choose 30*30cm,  if room size is about than 20sqm then medium size 50*50cm or 60*60cm is good, if room size is bigger than 30sqm then you can choose 80*80cm or even bigger. Of course if you have a big sitting room, then you can choose extra size like 60*120cm or 80*160cm.
#5 What is the price term?
Regarding the price, there is Exw factory price, Exw factory price + freight in Foshan, Fob price and CIF price.
If you want to buy other things like door, windows, lighting etc and you hope to mix the tiles with other things, then you can ask them for Exw factory price + freight in Foshan, then they will send the tiles to a warehouse or to your container for loading.
If you want to buy a full container of tiles from them, then you can ask Fob price, then they will give you price for full container include local port handling fee. Kindly note that sea port in Foshan is very small and there is no big international ship, better to ask FOB Guangzhou or FOB Shenzhen.
If you want them do the shipping for you as well, then you can ask them for Cif price. You just tell them the destination port and they will calculate the sea freight and other handling fee.
#6 Is the FOB include local port charge, like THC?
Normally FOB means 'free on board' and it will contain all local port fee before the container is on ship. But most suppliers in Foshan they do not include some local port handling charge. THC local port charge is one of the fee they used to take out. So in this case, you may need to ask a shipping company do the extra handling and pay the cost. Or you can ask the tiles seller include all local port charge for FOB, that would be most convenient for you.
#7 Does the price include wooden package fee?
Some suppliers will include the wooden package and add the cost inside when doing price calculation. Some suppliers will just give cost by normal package, that is by carton packing. Carton packing is not strong enough for loading and uploading. In order to protect the tiles better, it is best to ask them quote for wooden package together.
#8 Do you provide free domestic freight?
Not all the suppliers will provide free domestic freight within foshan. In that case, you might need to pick up the goods from their warehouse or factory. If you are buying different items and you are able to arrange a truck travel around for the pickup then it should be good. Or you can ask them for a free/not free domestic delivery to your house/container for loading.
#9 What surface finish is better? Matt or Polished?
Polished tile is more bright. If you want your style to be modern then you can choose polished tile.
Matt surface is easier to get dirty, you will need to do clean often. If you want your style to be soft or classic, then you can choose matt surface.
#10 How about the water absorption of the tiles?
If the water absorption is bigger then it means the density is high. If the density is higher then the tiles is harder, it will be better.
If you want to test it, you can simply drop little bit water on the back of the tiles, if the water spread and disappear quickly then the water absorption is low, or the water spread slowly then the water absorption is high.
If you want to buy building materials for your house from China foshan, then we are pleased to assist you here. We provide professional buying service for building materials in China for 15 years. We are able to help with sourcing, buying, inspection and shipping.
Welcome to contact us
Tips: If you prefer direct call, Message or email then follow:
David: 0086-18620044981 (on WeChat, WhatsApp)
Lilian: 0086-18620045496 (on WeChat, WhatsApp)
Email: tanndy@tanndy.com
We will respond in 30mins during working time.