Buy building materials from China – Whats the price difference compare to local market?
When people are thinking to buy building materials from China, they always keep thinking the price difference between Chinese market and their local market. Although most products are from China and the price there should be much cheaper than local market.
Today let's do a calculation on the price structure to see how much different on the cost.
In order to do the calculation, we should know what cost will be included for a selling price in your local market. Cost like import tax, selling profit, warehousing cost etc. To make it easier, lets mention it as below:
Factory Exw price, Wholesaler selling profit, Export handling cost, Sea freight, Import Tax, Local market selling profit, Local market warehousing cost, Local market labor cost.
So you can see there are total 8 cost when you buy building materials in local market. Let's calculate one by one to see how much indeed.
#1 Factory Exw price
This is the essential cost, the very basic product cost, the original factory price.
So if you want to buy different building materials for your house, lets say you want to buy a toilet and here the factory price is US$50.
So #1 the price is US$50.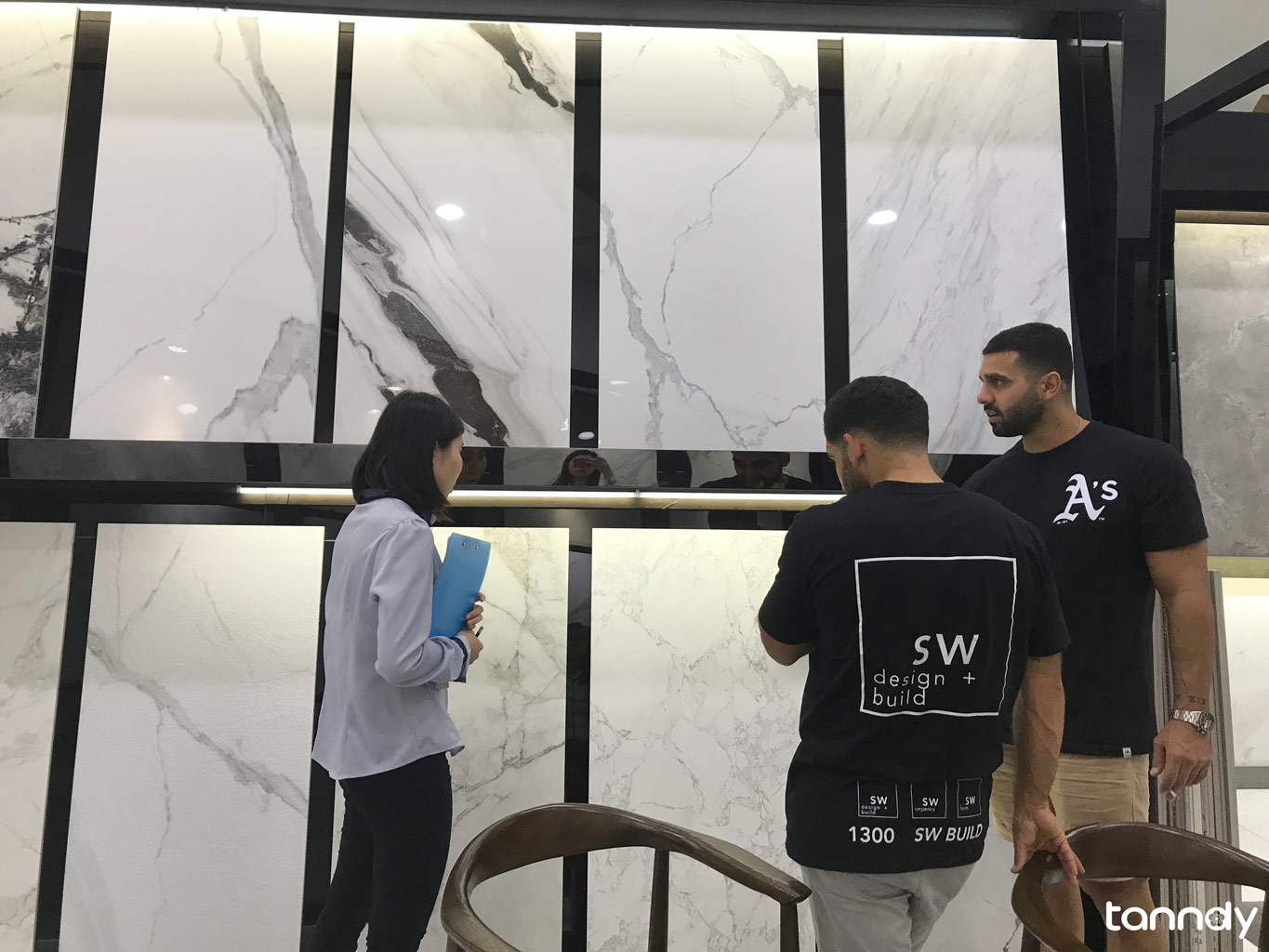 #2 Wholesaler selling profit
The wholesaler will take toilet from the factory and sell it in their showroom. As the wholesaler might sell to retailer and the retailer need to put profit for selling, so the profit for wholesale can not be too high. It used to be 10~15%. Lets say 10%, so the price from wholesaler will be US$50*(100%+10%)=US$55.
People may think that they want to buy from factory directly. As the factory need to make bulk order so if you can not buy big quantity then the factory won't give a good price. Their price might be higher than wholesaler. For example, if you can buy 100pcs toilet then you better buy from factory directly. If you just want 5~10pcs toilets then better to buy from wholesaler.
So #2 the cost is SU$2, after cost the price is US$55.
#3 Export handling cost
This is the cost for export handling, its also called FOB cost. The cost might include truck fee to transport the container, labor loading fee, document cost, port charge, declaration cost etc. The cost vary due to different place, it will be difficult to list due to different order condition. According to our experience, for 1pcs toilet, we can simply set the cost amount US$2.
So #3 the cost is US$2, after cost the price is US$57.
#4 Sea freight
Normally for building materials its shipped by container by sea. If you buy tiles and sanitary, as those are heavy so used to ship by 20ft container. For lighting, sofa etc used to ship by 40ft container. As ship from China to different countries the sea freight is different. For 20ft container the sea freight can range from US$500~900, depends. So lets say the container cost is US$600, then the cost to 1pcs toilet will be US$1 according to our experience.
So #4 the cost is US$1, after cost the price is US$58.
#5 Import tax
This is the destination country import tax. Normally all the countries will charge this. Some countries may charge 5~15% and some might be 20~30%, depends on different items. This could be fair to everyone, for both you and the importer will face the same tax, no matter what you ordered from outside. However, there is one way to reduce the import tax. By providing a lower amount invoice then you can reduce the tax. For example, your total order amount is US$10,000, normally you have to pay tax by 10% like US$1,000. If the invoice amount is reduced to US$7,000 then by 10% you only need to pay tax for US$7,00 which is less than before. So for a toilet lets say the tax is 10% and just calculate as full invoice amount. So its US$58*(100%+10%)=US$64.
So #5 the cost is US$6, after cost the price is US$64.
#6 Local market selling profit
This is the cost for you to buy in local. As local importer need to add their profit. As its retail so the profit rate will be much higher like 30~50% or even more. Lets say 45%, so the cost will be US$64*(100%+45%)=US$95.
So #6 the cost is US$29, after cost the price is US$95.
#7 Local market warehousing cost
The local importer need to rent a warehouse or a shop to store the items. They might not be able to sell all the items in 1 week or 2 weeks. Maybe 1 or 2 months they sell all their items. So they have to rent a warehouse/shop. The cost of warehouse/shop could vary due to different country, different location. Let's say the average cost to be US$3. So the price now is US$98.
So #7 the cost is US$3, after cost the price is US$98.
#8 Local market labor cost
The local importer might need to hire some staffs, to look after the shops or warehouse. Still the cost vary for different countries. Lets say US$2. So the price is now US$100
So #8 the cost is US$2, after cost the price is US$100.
Now you can clearly see that how much cost for one items from a factory in China and how much cost for buying the items in local.
Lets calculate all the cost again. The toilet from the factory is US$50. Then the local market selling price is about US$100, so its about double of the original cost. The cost after import tax is US$64, then the local seller's cost is about US$36 which is about 36%. Which means if you buy from China directly then you can save about 36% than buying from local market.
If you are buying building materials for whole house, then you might buy a total amount like US$12,000. If you buy from China directly then you might save up to 36% which is about US$12,000*36%=US$4320. So you can save about this amount. You can see if you would prefer to buy from China directly or not.
We do sourcing & buying in China, if you are coming, then we are pleased to help from here.
Welcome to contact us
Tips: If you prefer direct call, Message or email then follow:
David: 0086-18620044981 (on WeChat, WhatsApp)
Lilian: 0086-18620045496 (on WeChat, WhatsApp)
Email: tanndy@tanndy.com
We will respond in 30mins during working time.